DESCRIPTION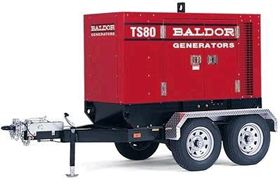 Industrial towable generators are designed and engineered for optimum performance and superior reliability. From the ultra quiet sound attenuated enclosures (64-71 dba) to the state-of-the-art electronics and controls, these units are engineered to meet the most rugged conditions. Place the unit at the job site, connect the load and start it up. These full-featured units are specially suited for all industrial, commercial and rental applications. Units can also be used with an automatic transfer switch for standby applications.
FEATURES
Manual or Automatic Start: Automatic remote start is standard on all units. When interfaced with an automatic transfer switch, the unit becomes an emergency standby system.
Voltage Selections: Three-position switch: 120/240 V, 1 and 3 phase Delta Connection; 120/208V, 3 ph Low Wye Connection and 277/480V, 3 ph Hi Wye Connection.
Large Integral Fuel Tank: Stays with the unit eliminating messy interconnections between unit and trailer.
Fuel Water Separators: Protects the engine from water and other contaminants.
Lifting Eye: Single point removable lifting eye is standard.
Cold Weather Starting: Provides ease of starting in cold weather.
Safety Features: Water temperature shutdown, low oil shutdown, over speed shutdown, over crank lockout.
Full Featured Control Panel: Operator controls, metering, voltage reconnection switch, voltage regulator and receptacles are located behind one lockable control panel door.
Extra Large Access Doors: Doors are lockable and have heavy-duty hinges and handles.
* Prices are subject to change. Tax and other fees not shown in above price estimate.