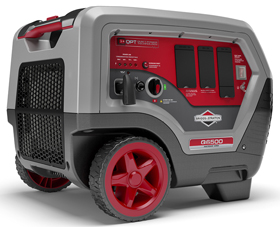 Designed to give you quiet confidence during power outages, the Q6500 QuietPower™ Series inverter generator is more than 60% quieter1 than standard generators and can deliver 6,500 starting watts2 of reliable backup power.
FEATURES
QuietPower Series Inverter Technology - Inverter technology produces power that's 60% quieter1 than standard generators while delivering consistent power for essential appliances and sensitive electronics.
306cc Integrated Engine/Alternator - A highly-efficient integrated engine/alternator provides up to 14 hours of run time3.
Protective, Noise-Reducing Shell - With an all-steel frame enclosed in a protective shell, noise is minimized and internal components are protected.
Compact, Lightweight Design - With a design that's 45% more compact and 30% lighter4 than standard generators, moving and storing your generator is no hassle.
Telescoping Handle - A suitcase-style telescoping handle makes it easy to move the generator around your garage and property.
Multiple Outlets - Power a wide variety of electronics and devices at the same time with 120A-20A outlets (4), USB outlets (2) and a 120V-240V locking outlet.
* Prices are subject to change. Tax and other fees not shown in above price estimate.