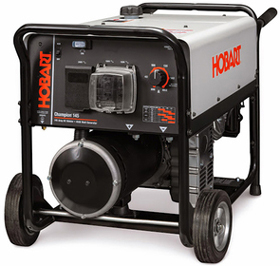 The Champion 145 Welder/Generator offers 4500 surge watts of AC power, making it an excellent choice for emergency backup or for powering hand tools, grinders, lights or battery chargers. The versatile receptacle package features four 20 amp, 120 VAC GFCI receptacles and one 240 VAC (6-50R) receptacle, all with covers. Weighing in at 222 lbs, the Champion 145 includes running gear and has a durable roll bar frame for added protection.
This lightweight and compact welder/generator features a 6.25-gallon gas tank for long run times welded at 75 amps or use 2500 watts of auxiliary power for 12 hours. The unit provides up to 145 amps of DC welding power, offers exceptionally smooth arc-starting capabilities and can accommodate stick electrodes up to 5/32-inch diameter.
FEATURES
4,500 watts surge generator power
4,000 watts continuous generator power
145 amp DC welder for up to 5/32 in diameter DC stick electrodes
Versatile receptacle package:
Four 20-amp 120 VAC GFCI receptacles with heavy-duty cover
One 240 VAC (6-50R) receptacles with heavy-duty cover
Rugged and lightweight - 216 lbs (98 kg)
Includes running gear
Large muffler for quieter operation
APPLICATIONS
Farm/Home
Light Maintenance and Repair
Light Fabrication
* Prices are subject to change. Tax and other fees not shown in above price estimate.