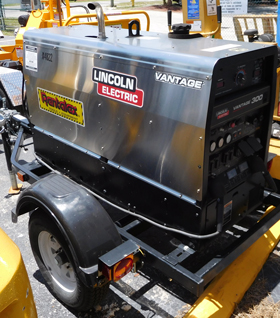 Compact, Multi-Process Engine Driven Welder -
The quiet, compact Vantage® 300 is an ideal choice for construction teams, pipe rig owners and rental fleet managers.
FEATURES
Stainless steel panels offer added durability
Select one of five welding process modes
Plenty of AC Generator power
Tier 4 Final Kubota® diesel engine
Compact Case With Stainless Steel Enclosure: Small size and light weight is suitable for many pickup trucks. Standard stainless steel roof, side panels and engine-access door deliver added protection and durability.
Lockable, removable sliding engine access door provides ample space for engine and oil filter work without Requiring a large clearance space on your truck. 55% more access than competitive product.
Battery drawer on front of machine and top-mounted radiator cover provide convenient access to these systems. Patented tilt down control panel for easy servicing of internal components.
* Prices are subject to change. Tax and other fees not shown in above price estimate.