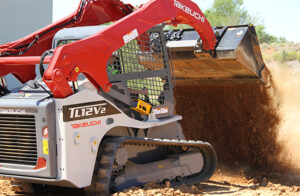 The TL12V2 features a vertical lift loader arrangement and sets another benchmark for compact track loaders by delivering one of the most capable and innovative machines available to the market today. The cab has been enlarged and features a smooth low-effort overhead door design for improved entry and egress. A quiet ride track design with flotation pads reduces vibration, noise levels, and improves ride quality.
FEATURES
Powerful and Efficient – The turbocharged, after-cooled engine delivers an excellent blend of power and performance and it features a DOC+DPF +SCR exhaust after treatment system.
Vertical Lift Loader – Designed to deliver exceptional performance and improved tipping load and rated operating capacity.
Automatic Power Control – Maintains engine power for optimal performance, and it may be engaged or disengaged by the operator.
Rear Bumper with Tie Downs – Delivers greater protection to the rear of the machine and simplifies anchoring the machine for transport.
Heavy Duty Cross Member – Protects bucket cylinders from damage and it has been lowered for improved attachment visibility.
High Capacity Cooling Module – Enables machine to run cooler and more efficiently for improved component life and attachment efficiency.
Purpose Built Frame – Features multiple cross members for greater strength and rigidity.
Oversized Pins and Bushings – For greater strength where it matters.
Pilot Joystick Controls – Respond immediately to operator input for greater control and performance, and they are low effort for excellent comfort.
Improved Foot Throttle Position – Allows the operator's foot to be in a more natural position for greater comfort and reduced fatigue.
Deluxe High Back Suspension Seat – Allows the operator to remain comfortable through out the workday by providing a wide array of settings that include adjustments for height which also improves attachment visibility.
Hydraulic Oil Sight Gauge – Is easily seen by the operator as they enter the machine.
Alternator Accessibility – Is greatly improved due to the removable access panel located on the fan shroud.
Rear Tower Clean-outs – Are accessible through the right/left towers for convenience, easy inspection, and cleaning.
* Prices are subject to change. Tax and other fees not shown in above price estimate.