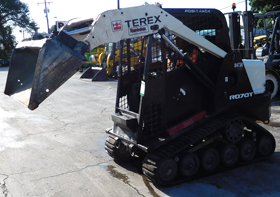 The smallest compact track loader in the Terex® lineup, with a 4-ft wide profile, the R070T radial lift path compact track loader is the right tool for productive work in tight situations where access is limited. Featuring a powerful 3-cylinder, Perkins diesel engine, the 33.7-hp R070T loader is designed to be a heavy-duty machine within a compact, maneuverable package.
Ideal for landscaping, rental and small construction projects, the R070T compact track loader has 64.39 ft-lb of peak torque, a tipping load of 1,900 lb — with a 665 lb rated operating capacity at 35 percent tipping load capacity (950 lb at 50 percent of tipping load) — and a lift height of 101 in. Distributing the machine's 3,600-lb operating weight down to 3.0 psi ground pressure, the R070T loader easily works on soft or sensitive surfaces with minimal damage or impact.
This model comes standard with 11-in wide general purpose tracks outfitted on the patented Terex Posi-TrackTM undercarriage technology and suspension. All Terex compact track loaders, including the R070T model, utilize a proprietary all-rubber track, rather than a rigid track technology with steel embedded tracks. This enables Terex compact track loaders to produce greater efficiencies in operation and speed because of their lighter weight. This set-up gives the R070T loader more traction, higher flotation and better operating comfort so operators can make full use of the machine's higher travel speeds, up to 6.5 mph. Terex also offers a special turf track for the R070T loader for working over fragile or improved surfaces.
* Prices are subject to change. Tax and other fees not shown in above price estimate.