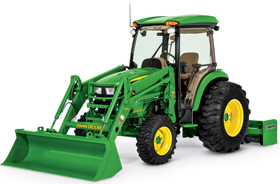 The John Deere 4052R Compact Utility Tractor is a new tractor model in the new John Deere 4R Series. The 4052R features a powerful 52HP Yanmar Diesel Engine and option of either PowrReverser Transmission or eHydro Hydrostatic Transmission. John Deere's 4R tractors come standard with 4WD and optional factory installed wheels spacers making it ideal for a wide range of chores in various terrains.
Along with the powerful engine and high-quality parts and components that John Deere is known for, the new John Deere 4052R includes a variety of state-of-the-art features such as a rear Hitch Assist and Aux Hitch Control as well as Hydrostatic Transmission Controls such as LoadMatch and SpeedMatch. If you are looking for a top of the line Compact Utility Tractor to complete virtually any task imaginable, the John Deere 4052R is the Tractor for you!
FEATURES
52 HP Turbo Charged Yanmar Diesel Engine: - Tier 4 compliance reduces noise, vibration, emissions, and fuel consumption without sacrificing power or torque. - Direct fuel injection makes starting easier and improved fuel efficiency. - Auto-bleeding feature means no priming after running out of fuel.
PowrReverser12F/12R Power Reverser Transmission:  * Clutchless shuttle shifting from forward to reverse allows for quicker loader work than other gear transmissions * Synchronized gears allow for shifting with the clutch on the go * eHydro gives a more automotive feel for operation with one pedal for forward and one for reverse * Cruise Control, MotionMatch, LoadMatch, SpeedMatch, and EThrottle come as standard equipment with HST Transmission.
 Auxiliary 3-Pt Hitch Control & Hitch Assist* This new feature allows the operator to raise or lower the hitch while standing behind the tractor * Hitch Assist allows for the operator to move the tractor forward or backwards at a slow pace to help with work use.
 Four Wheel Drive and Optional Wheel Spacers* 4WD increases traction and pulling power while reducing the risk of "sinking" into the ground * Choose to engage or disengage 4WD and use Rear Differential lock as needed * Planetary drive reduces stress points in the rear end for added durability and less strain on the transmission.
 Deluxe Seat with Swivel* 4052R Open Station models come standard with the 15 degree swivel seat * This reduces user fatigue from turning when using rear drawn implements * Armrests and suspension are standard on open operator station models
Premium Work Lights* Two Fender-mounted forward-facing work lights are standard on open station tractor models.
* Prices are subject to change. Tax and other fees not shown in above price estimate.