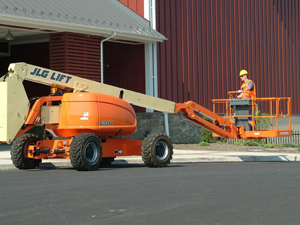 The JLG 600AJ is one of the most powerful boom lifts available, with a best-in-class reach envelope and up to 500 lbs. (226.80 kg) load capacity. JLG's advanced engineering ensures that, despite this power, the 600AJ remains versatile and maneuverable — capable of operating in confined spaces and working around obstacles that would present a challenge for other machines of its size.
The JLG 600AJ boom lift is capable of raising workers and their tools to heights up to 60' 7" (18.47 m), with a maximum horizontal outreach of 39' 9" (12.12 m). As a result, it is ideal for construction, material handling, general maintenance, repairs, and other tasks. 2WD and 4WD configurations are available. Add on an optional articulating jib to facilitate safe and secure access to even more hard-to-reach places.
A Tier 4 Final-compliant 67 horsepower diesel engine powers the JLG 600AJ. Your choice of a used JLG lift from Access Lift Equipment will position your organization to meet all current and future regulatory challenges without the expense of buying new.
FEATURES
Best reach envelope in its class
Optional articulating jib gets you into hard-to-reach places
Unmatched maneuverability for confined work areas
Equipped with a fuel-efficient Tier 4 engine
* Prices are subject to change. Tax and other fees not shown in above price estimate.