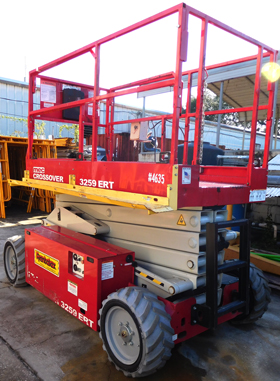 Industrial-Grade Electric Scissor Lifts - Crossover 3259 ERT Series. Bridging The Gap Between Slab and RT Scissor Lifts.
FEATURES
Fully Proportional Drive & Lift Controls.
Rough Terrain Capability Paired With Slab Size & Sensibility.
4-Wheel Drive, 48v DC Power.
59" (150 cm) Overall Width.
No-Maintenance Scissor Bearings.
Roll-Out Deck Extension with Incremental Lock Positions.
Standard Integrated Sheet Material Rack Designed & Approved By MEC.
Patented Powerlift2 Scissor System - Built Strong, Works Tough.
Outrigger Support For Platform Stability On Heavy Duty Jobsites with One-Touch Auto Leveling.
* Prices are subject to change. Tax and other fees not shown in above price estimate.