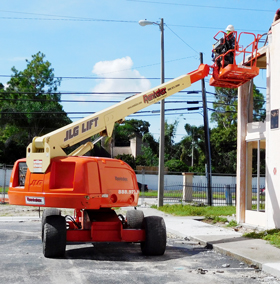 Experience a productivity boost with the 400 Series. With a lift speed of 33 seconds, 4.25 mph (6.8 kph) drive speed, and up to 3.5 ft (1.07 m) more reach, you can get to work quickly and efficiently. Customize your function speeds with the Control ADE® system. Customer-preferred controls mean fewer buttons and switches used to position the platform and less time spent learning to use the platform controls. Our exclusive Control ADE® system improves machine maintainability while an engine swing-out tray provides greater serviceability access. For jobs that require welding, choose a model with an on-board Miller® welding system.
FEATURES
Improved multifunction capability increases productivity
A 6 ft articulating jib gives you the added access you need.
More durability and serviceability thanks to the new DuraTough hood design
Larger capacity of 600 lb
* Prices are subject to change. Tax and other fees not shown in above price estimate.