DESCRIPTION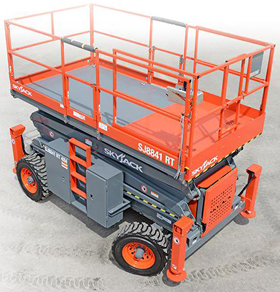 The SJ 8841 features working heights of 11,4 m and 12,5 m respectively. This model is drivable at full height, with capacities ranging to 909 kg allowing for maximized productivity. As with every Skyjack model, these units use an analog based control system, featuring Skyjack's standard color coded and numbered wiring, for ease of troubleshooting.
FEATURES
Axle based 4WD system
"Detroit Locker" type rear differential and limited slip front differential
Drivable at full height
Dual fuel (gas/propane) or diesel engine
Self-centering scissor design allows extension decks to be added to both ends
4' (1.22 m) Roll out extension deck
Disc brake system on rear axle
30% Gradeability
110V AC outlet on platform with GFI
Tilt alarm with drive & lift cut-out
All motion audible alarm
Lanyard attachment points
Tie down/lift lugs
Operator horn
Flashing light
Fold down hinged railing system
Half height spring hinged gates on both sides
Grip Lug, air-filled tires
Relay based control system
Color coded and numbered wiring system
Telematics ready
* Prices are subject to change. Tax and other fees not shown in above price estimate.