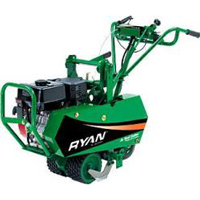 Ryan heavy duty sod cutters are user-friendly and will conquer the job no matter what size. They are portable, responsive, and adapt to a variety of soil conditions. Whether you're cutting sod around curved landscapes, or cutting on a sod farm or sports field, a Ryan sod cutter will exceed your expectations. The Ryan Model 544944A is similar in size to the 544844 model, but it uses a different engine. This sod cutter has a 5.5-HP Honda engine.
FEATURES
Good balance and easy handling - max. traction and self-propelled action
75% of weight rests on cast iron drive wheel
Knob thread for superior traction and stability
4 vibration isolators - absorb vibration transmitted through transmission case
Cast iron transmission housing: heavy-duty, built-to-last
Drive wheel lever engagement - can run without cutter blade engaged
Pneumatic rear caster wheel with lock-out - reduces turf compaction
Depth setting adjustment
Knife cutting action
* Prices are subject to change. Tax and other fees not shown in above price estimate.