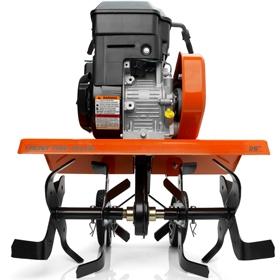 The weight and size of this tiller makes it extremely easy to handle, maneuver, transport and store. This machine is perfect for homeowners who want to prepare garden patches and flower beds without using a spade. And that's just the beginning, with this tiller you can do so much more. Powered by reliable, easy-start Briggs & Stratton engines, the FT900 is equipped with carrying handles for easy handling before and after use.
FEATURES
Power Forward and Reverse - One gear forward and one reverse, for easy operation, maneuverability and transport.
OHV Engine - Powerful overhead-valve engine provides the torque necessary to cultivate the most compact earth.
Drag bar - Easy-adjust drag bar, for balance in different working conditions.
Transport Wheels - Large removable wheels for easy transportation between projects
* Prices are subject to change. Tax and other fees not shown in above price estimate.