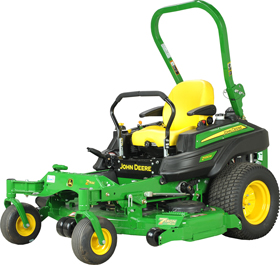 The ZTrak M Series hit the sweet spot where value-driven performance and day-in, day-out driving durability come together. The M Series are focused on those of you who have a lot to look after – and a big need for efficiency – with Electronic Fuel Injection (EFI) and Flex Fuel options, Mulch On Demand decks, and Dump From Seat (DFS) Material Collection System (MCS) capability, and diagnostic capability. The Z930M features a long list of available options including Mulch On Demand decks, Propane functionality, dump-from-seat Material Collection System capability, 3-way adjustable suspension seats and easy-to-use diagnostics.
FEATURES
Powerful 25.5-hp (19.0-kW) commercial-grade engine delivers class-leading performance and efficiency
Extra durability and mowing performance from 7-Iron™ PRO Side-Discharge decks pressed from a single piece of steel
Available Mulch On Demand™ deck
Enhanced productivity, safety, and trim ability with a Fastback™ PRO rear-discharge mower deck
Three seat choices with ComfortGlide™ fore/aft suspension offer exceptional operator comfort
Heavy-duty frame provides strength and durability
Durable hydrostatic drive train that delivers better cooling and provides easy access
Michelin® X® Tweel® Turf airless radial tire technology for ZTrak™ Mowers eliminates downtime and reduces cost of operation
Mower is easy to service with many accessible components
Extra reliability and long life with cast-iron blade spindle housings
Protective zone around the operator is provided by the rollover protective structure (ROPS)
Field-installed propane conversion kits for commercial walk-behind mowers, QuikTrak™ mowers, and commercial ZTrak™ mowers
* Prices are subject to change. Tax and other fees not shown in above price estimate.