Description
The ZTrak M Series hit the sweet spot where value-driven performance and day-in, day-out driving durability come together. The M Series are focused on those of you who have a lot to look after – and a big need for efficiency – with Electronic Fuel Injection (EFI) and Flex Fuel options, Mulch On Demand decks, and Dump From Seat (DFS) Material Collection System (MCS) capability, and diagnostic capability. The Z930M features a long list of available options including Mulch On Demand decks, Propane functionality, dump-from-seat Material Collection System capability, 3-way adjustable suspension seats and easy-to-use diagnostics.
ENGINE
Certified Horsepower: 
19 kW (25.5 hp*) / 19.8 kW (26.5 hp*) @ 3,600 RPM
Engine Model: F801V / ECV749
Displacement: 852 cc / 747 cc
Cylinders: Two
Oil Filter: Full flow, replaceable
Lubrication: Full pressure
Cooling: Air
Air Cleaner: 
Heavy-duty canister type with safety element
FUEL SYSTEM
Fuel Type: Petrol
Fuel Tank Capacity: 43.5 L
ELECTRICAL SYSTEM
Charge System: 20 amp
Battery Voltage: 12 Volt
Hour Meter: Standard, digital
Operator Presence Starting system:
Brake-N-Go (hand)
DRIVE TRAIN
Hydraulic Pumps: 
Tuff Torq heavy-duty integrated piston pump
Wheel Motors: 
Tuff Torq heavy-duty integrated piston wheel motor
Hydraulic Capacity: 5.58 L
Travel Speed Forward: 0-16.1 km/h
Travel Speed Reverse: 0-7.2 km/h
DIMENSIONS
Overall Length: 213.4 cm (84 in.)
Overall Width: 
188 cm (74 in.) & 218.4 cm (86 in.) w/chute down
Height: 
185.4 cm (73 in.) w/OPS up
119.4 cm (47 in.) w/ROPS down
Weight (with Fluids): 
578 to 619 kg (1,275 to 1,365 lb.)
MOWER DECKS
Deck Construction: 7Iron PRO (One-piece stamped steel with reinforcements)
Deck Thickness: 7-gauge 4.5 mm (0.177 in.)
Height-of-Cut Range/Increment:
25.4 – 139.7 mm (1 to 5.5 in.) / 6.4 mm (0.25 in.)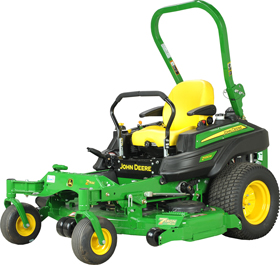 * Prices are subject to change. Tax and other fees not shown in above price estimate.