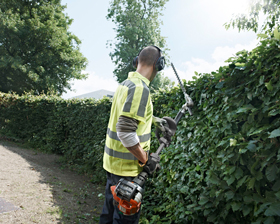 A very flexible, professional pole hedge trimmer with an adjustable cutter bar and extra long pole. The engine serves as a counterweight and makes the machine exceptionally well-balanced and comfortable to use. Especially when cutting taller hedges, without having to use a ladder or cherry picker. Intuitive controls for easy starting. 325HE4 is powered by our X-TORQ® engine which reduces exhaust emissions compared to previous model.
FEATURES
Rear impact guard - The rear-impact guard protects the engine from wear and damage.
Auto return stop switch - When the machine is turned off, the stop switch automatically returns to the start position for easier starting.
Remote blade adjuster - Allows the operator to change the angle of the cutting equipment without getting hands near the blades.
Smart Start® - The engine and starter have been designed so the machine starts quickly with minimum effort.
Articulating cutter bar - Adjustable cutting bar for greater versatility and less stress on the operator. The cutter bar can be angled in numerous positions to clip overhead and low-lying hedges easily.
* Prices are subject to change. Tax and other fees not shown in above price estimate.