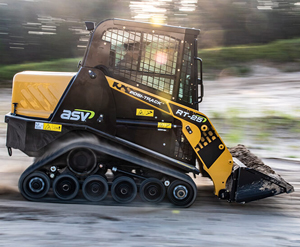 The RT-25 Posi-Track compact track loader is designed and created to feature the productivity and comfort that landscapers, homeowners and contractors need. Designed small, the RT-25 offers patented Posi-Track technology with the suspension, traction, and flotation you count on to shape the earth.
FEATURES
POWER - This versatile machine offers an industrial 25-horsepower Perkins diesel engine. Operators can use that power to achieve maximum productivity by moving around quickly (5.1 mph top speed), digging and lifting more. The engine is turbocharged so it can output its full horsepower even at high elevations.
PERFORMANCE - The RT-25 features a 4-foot machine width, a rated operating capacity of 665 pounds, and an 8.4 foot lift height. ASV builds this economical machine to exert minimal ground pressure and flotation while giving operators the ability to work in tight spaces with exceptional pushing and digging power.
COMFORT - We built the RT-25 to be comfortable, practical and easy to operate. An upgrade from a stand-on or walk-behind loader, it comes with an adjustable contour vinyl seat with built-in operator presence switch, lap bar and 2-inch wide seat belt—an adjustable suspension seat is optional. You'll find right and left hand pilot hydraulic joystick controls for smooth lift, tilt and control. The RT-25 also features an optional heated cab for additional comfort during winter operation.
SERVICEABILITY - As with all models, ASV equips the RT-25 with direct drive pumps. The direct drive system eliminates labor-intensive belt servicing required with belt-driven pumps and a one-piece hood allows easy access to all components and service checkpoints.
* Prices are subject to change. Tax and other fees not shown in above price estimate.