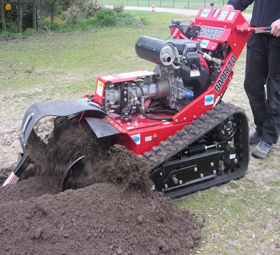 The Barreto 2036 is the total solution when it comes to trenching. With durable steel shielding, an operator-presence system, easy-to-learn and color-coded controls, and park brake, the 2036 is the answer to your walk-behind trenching projects. The trencher comes stocked with its own transport trailer for added convenience. Trailer requires 2" towing ball.
The powerful 2 cylinder Honda 20 HP provides more than enough capacity for a smooth functioning of traction as well as chain. The combined digging chain consists of Tungsten Carbide spikes and shovels. With the exception of rocks this machine is fit for every soil condition. The hydraulic drive of the tracks as well as the chain makes this machine extremely reliable and easy to maintain. The trencher can easily be controlled by 1 person and ensures a higher output and much lower cost than any other compact excavating equipment. Therefore it is highly appreciated by excavation workers and building contractors.
* Prices are subject to change. Tax and other fees not shown in above price estimate.