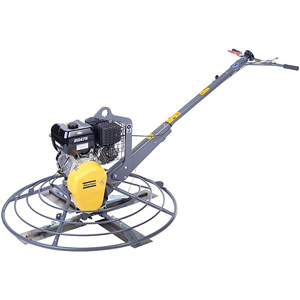 The Atlas Copco BG475 walk-behind trowels excel at finishing concrete in limited-access worksites, and close to walls due to their compact bodies and light weight. The upgraded trowels feature an adjustable clutch to enhance versatility; a maintenance stand to make servicing easy; and a centrifugal clutch for safe operations. The trowels' relatively light weight and compact protection rings provide versatility on concrete slabs. The Atlas Copco 48in trowel is perfect for use on bigger, outdoor applications, such as driveways.
FEATURES
The BG475 includes 48-in. long blades for operation on larger, outdoor applications, such as driveways.
It features a detachable throttle that can be moved from the left handle to the right, which enhances comfort and ease of use for left and right-handed operators.
* Prices are subject to change. Tax and other fees not shown in above price estimate.