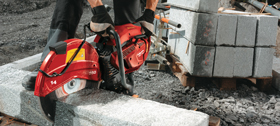 Hand-held gas saw with easy-starting 70 ccm engine (automatic choke), for cutting to depths of up to 125 mm.
FEATURES
Easy starting – unique automatic choke system
Easy maintenance – starter rope and filter replacement
Cyclone filter – for maximum filter lifetime and consistently high power
Maximum cutting speed thanks to customized blades
APPLICATIONS
Laying paving: Cutting curbstones and paving slabs to size
Road construction: Perimeter cutting in asphalt and concrete
Floor construction: Cutting expansion joints in fresh concrete
Metalwork: Cutting steel profiles, pipes and steel sheets
Construction work: Cutting out openings in brick or concrete walls
* Prices are subject to change. Tax and other fees not shown in above price estimate.