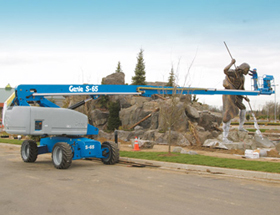 Genie® telescopic S™-booms offer greater horizontal outreach than any other type of aerial platform — perfect for areas with limited access in construction and industrial applications. The S-65 telescopic Boom Lift from Genie is a real Colossus of a machine. With a 56ft horizontal reach and a 71ft working height, it makes light work of getting to even the most inaccessible of areas. Ideal for use in the construction and maintenance industries, it will transport people and equipment up to where they need to be quickly and efficiently. Once up there, the 360-degree rotating jib and 160-degree rotating platform make it easy to carry out the task at hand. Simplified joystick control and a tight turning circle make the S-65 Boom Lift very easy to operate.
FEATURES
Ramped boom control system provides smooth boom functions and finer control
Virtual pivot primary boom aligns machine's center of gravity for lower machine weight
Positive traction drive maintains equal power to all drive wheels
Fixed-width axles allow faster setup
Active oscillating axle option enhances traction on rough terrain
360˚continuous rotation turntable for quick positioning
Self-leveling platform with hydraulic platform rotation
All engines are emissions compliant
12 V DC auxiliary power
Anti-restart engine protection
Auto engine fault shutdown
Swing out engine tray
Deutz intake air heater
* Prices are subject to change. Tax and other fees not shown in above price estimate.