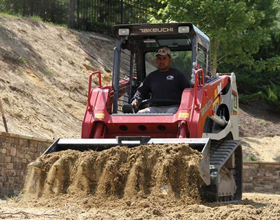 The versatile TL8 is small enough to get into those tight areas, light enough to transport easily, and powerful enough to be your go to machine for landscaping and rental applications.
FEATURES
Heavy Lifter – Lift arm force provides outstanding lifting power.
Stay in Your Seat – Hydraulic flow is adjusted from the comfort of the operator's seat, and attachment settings can be stored in the new monitor. Multiple work modes allow you to chose the mode suited to your application.
Powerful Drives – Double reduction planetary drives provide exceptional pushing power, delivering maneuverability, outstanding performance, and the standard two speed travel allows for increased travel speeds.
Power Plants – Powerful engines deliver excellent performance and are EPA Final Tier compliant.
Total Package – Outstanding operating capacity coupled with tremendous breakout force allow you to get the job done more efficiently.
Unparalled Tractive Force – Provides tremendous track power, allowing the machine to perform in the most demanding applications.
Tough and Dependable – Front idler rollers are robust and feature larger bearings for slower shaft speeds extending component life.
Built to Last – The heavy duty rear door is built to protect the radiator and hydraulic oil cooler from rear impacts, and will provide years of service and dependability.
Keep it Cooler – The industrial sized side-by-side radiator and hydraulic oil cooler are extremely efficient and provide unmatched cooling performance for greater component life.
Maximum Comfort – The available cab is pressurized which contributes to a clean, comfortable work environment. It also includes a roll-up door that may be opened regardless of the loader arm position, and it can be secured overhead during operation.
* Prices are subject to change. Tax and other fees not shown in above price estimate.