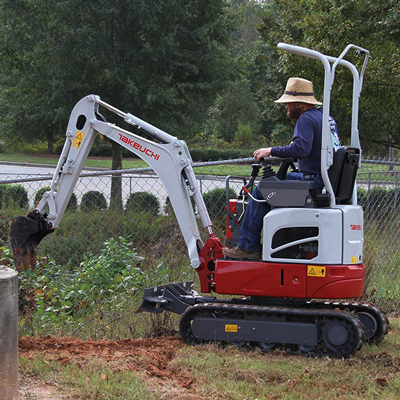 The TB210R delivers excellent performance in an ultra-compact design. It has an impressive feature set that includes a pattern change valve, pilot controls, retractable undercarriage, minimum tail swing, and a two-post ROPS foldable frame. It is the ideal excavator for the most confined applications. The TB210R features many upgrades to enhance operator comfort, efficiency, and serviceability. To improve fine control and reduce fatigue, the TB210R now features pilot-operated joystick controls that are low effort and responsive to operator input.
Additionally, an ISO/SAE pattern change valve has been added enabling the operator to choose their preferred operational pattern. The boom cylinder is now mounted on top of the boom for greater protection and improved routing of the hydraulic lines running through the boom and arm. A hydraulically retractable track frame and the addition of a foldable ROPS frame allow it to easily pass through a standard doorway. To reduce the likelihood of rear swing impacts, the TB210R also features a short tail swing design. Despite its compact dimensions, service access is exceptional thanks to the tilt-up seat pedestal and access panels.
FEATURES
Ultra Compact Design - The short tail swing, retractable undercarriage, and foldable ROPS enable you to work on job sites with very limited access.
Function and Efficiency - The standard long arm provides you with a wider working range and digs depth.
Increased Protection - Top-mounted boom cylinder and hydraulic lines routed through the boom and arm ensures exceptional protection from job site hazards. All steel construction ensures body integrity through greater strength and rigidity and protects key components from damage. Heavy duty counterweight protects vital engine and hydraulic components from damage.
Operator Focused - Pilot controls are low effort and precise. ISO/SAE pattern change valve allows you to choose your preferred operational controls.
Ease of Maintenance - Tilt forward operator's seat and swing access panel provide easy access to daily maintenance and inspection points.Peace of Mind - The safe start system requires the safety lockout lever to be in the raised position in order to start the excavator ensuring hydraulic functions are inactive at start-up.
* Prices are subject to change. Tax and other fees not shown in above price estimate.