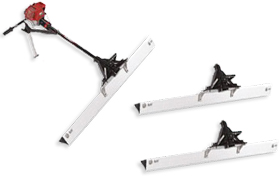 The Black Beauty easily screeds concrete from 2" to 9" slump while not sinking or riding up over the concrete. It compacts and consolidates as it screeds. The Black Beauty will effectively power Equilateral Triangle screed bars of up to 20 feet long. The rugged cast aluminum frame and heavy duty bearings are designed to provide years of maintenance free service. The Black Beauty features a Honda GX35 1.5 HP engine. The adjustable T bar handle enables the operator excellent control. Black Beauty screed bars (found below) are sold separately.
FEATURES
Adjustable T-BAR handle provides maximum control
Effectively drives us to a 20 ft Equilateral Triangle Screed Bar
Screeds 2 in to 9 in slumps
Does not ride up over thick concrete
Compacts up to 18 in thickness as it screeds
Honda GX35 four stroke engine
Heavy duty clutch , bearings, and drive shaft
Suspension design reduces vibration to the operator while achieving maximum effect  to the concrete surface
Sealed bearings, eccentric weight and drive shafts
Heavy duty stainless steel structural shaft housing
Premium powder coating
Extremely low maintenance
Easy Equilateral Triangle Screed Bar disconnect for changes and transport
* Prices are subject to change. Tax and other fees not shown in above price estimate.