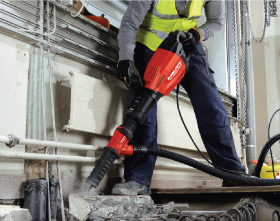 High-performance concrete demolition hammer featuring low vibration and brushless motor for longer life, suitable for working on walls and floors. The second generation Hilti TE 1000-AVR breaks through tough concrete and boasts a remarkable 50% demolition power increase. Featuring Hilti's Hi-Drive technology and delivering the highest output per day, it's packed with all the power you need for tough demolition work with the lowest, unmatched vibration, thanks to AVR (Active Vibration Reduction).
Demolishing concrete and masonry at floor level or below waist level
Renovating floors of all kinds
Removing tiles, bushing and compacting
Corrective chiseling such as adjustments to door and window openings
FEATURES
Powerful breaking performance thanks to exceptional impact energy and innovative Hilti Polygon chisel design.
Lowest vibration values in its class thanks to Hilti's innovative sub-chassis Active Vibration Reduction (AVR) system.
Maintenance-free brushless SR motor and triple-chamber lubrication systems for longer service intervals and tool lifetime.
Inline design for easier handling in demanding breaking applications
Detachable supply cord for quick and easy exchange of damaged/broken supply cords
* Prices are subject to change. Tax and other fees not shown in above price estimate.