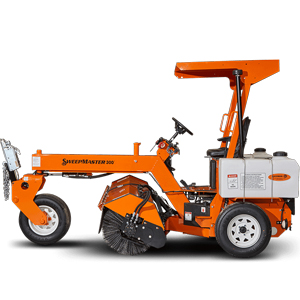 The SweepMaster 300 is popular because it's easy to tow and it's very user-friendly. Besides being able to clean a variety of surfaces, it's also great for oily surfaces and can be used as a gravel sweeper or street sweeper. It is also well known for providing parking lot sweeper rentals.
With our advanced hitch/towing package, which comes standard, you can attach the SweepMaster 300 to the back of your truck in seconds without having to raise the front wheel. This model has a powerful Kubota engine rated at 24.8 horsepower, a lower center of gravity, hydraulic manifold blocks, and a foot brake. Additional options include variable broom speeds, special paint colors, strobe lighting, work lights, and emergency and stop/turn tail lights.
A highly productive sweeping machine, the Lay-Mor Sweepmaster 300 has been proven and accepted as one of the top sweeping machines in the rental industry. With the tongue pivoting right, left, and up and down, it is possible for hook-ups to be quicker and easier without having to raise the front wheel. Easy access to maintenance means the unit can be serviced more quickly and more easily than other products.
The Laymor SM300 gravel and parking lot sweeper offers several features:
Sprinkler System
Easy to Operate – pivoting tongue for easy towing and fast hook-up
All wheels on the ground during towing
Minimal tongue weight
Surge brakes
Towing lights with turn signals
Steel Broom Core
Front Debris Deflector
9 Gallon Fuel Tank w/Mechanical Gauge
Cushioned Seat with 2" Retractable Seat Belt & Arm Rests
Reverse Alarm
Electric Hour Meter
Hydraulic Sight Gauge
Warning Light Package, Engine Oil Pressure, Water Temperature and Alternator
Engine Protection System
Hub-Engaged Warning System