Is it better to rent a mortar mixer or a concrete mixer? This is one of the most often requested mixer-related inquiries by our rental coordinators. Our contractor customers understand the significance of employing the proper tools for the job. While the materials for mortar and concrete are identical, employing the wrong sort of mixer may be fatal for both your project and your equipment.
The primary distinction between cement and mortar is consistency. When combined, cement typically contains gravel or rock particles and has a thinner consistency. It is more more durable than mortar and is great for foundations, support beams, and walls. Cement constructions are frequently reinforced with steel rebar to preserve their integrity even when they sink in the earth. While the phrase "cement" is frequently used interchangeably with "concrete," cement is a crucial element in concrete, along with sand, gravel, and stone fragments. Mortar has many of the same components as concrete, such as sand and gravel. However, mortar contains more water, giving it a thicker consistency. It works effectively as a "glue" for joining materials such as masonry or stone.
Mortar Mixers: Mortar mixers are composed of a stationary barrel and a rubber-stripped internal paddle. The paddle revolves while mixing the mortar and scrapes the edges of the barrel to keep the sticky mortar from clinging to its sides. These heavy-duty mixers can handle a variety of applications, including stucco, plaster, epoxy, terrazzo, drywall mud, paint, and grout. They perform well for mortar combinations but should never be used for cement or concrete mixtures. A coarser combination, such as concrete, wears down the rubber strips, and particles of rock or gravel might block the paddle.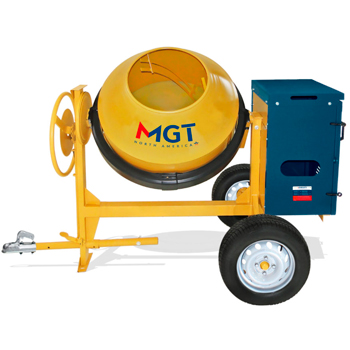 Cement / Concrete Mixers: These horizontal mixers have a spinning drum or barrel that does not have a paddle. You've probably seen horizontal mixers like this one in action on the backs of cement trucks on their route to a project site. The barrel/continual drum's spinning guarantees that the cement/concrete mixture mixes smoothly and does not settle until it is ready to be poured.These mixers are great for mixes containing bigger pieces, such as cement or concrete, but they are less effective for "smoother" combinations, such as mortar.
We hope this information has given you enough knowledge to choose between a mortar mixer and a concrete mixer for your forthcoming work. If you have any further concerns regarding the distinctions between mortar and concrete mixers or If you have any questions about which piece of equipment is best for your project, please contact Rentalex at (813)971-9990 and one of our rental professionals would be happy to assist you.