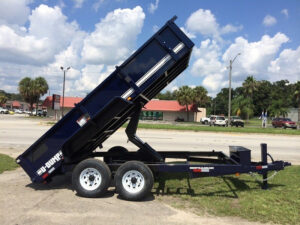 U-Dump's Pro series is a heavy-duty product line designed for rugged performance and durability. These high-quality trailers provide years of reliable service.
FEATURES
Battery (Deep Cycle Marine)
Battery Charger (5 Amp)
Enclosed Lockable Power Box
Remote Control for Dump Function on a 10' Cord
Tandem EZ Lube Axles
Electric Brakes on Both Axles
Pockets (2X4 tubing of 3/16" steel, running vertically from the top edge to the bottom edge of the trailer, along the sides, front and back, with a rubber cap at the top)
Diamond Plate Fenders
Double Rear Doors
Undercoating
Sides and Floor 10 Gauge Steel
Adjustable 2 5/16" coupler
Remote control for dump function on a 10' cord
LED Lights
Tarp Brackets
Spare Mount
* Prices are subject to change. Tax and other fees not shown in above price estimate.