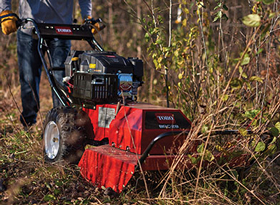 This versatile machine is ideal for the rental and landscape contractor industries, as performance, durability and usability are key elements in its design. The commercial grade, self-propelled brush cutter allows operators to level brush, tall weeds, saplings and heavy vegetation with ease. The Toro hydro drive brush cutter, featuring a pivoting deck, can handle brush up to six feet tall and saplings up to two inches in diameter.
FEATURES
The pivoting deck combined with the flail blade ensures easy maneuvering and increased cutting performance for even the toughest jobs.
Standard electric start, larger fuel tank capacity and the 28 inch cutting deck increases operator productivity.
Easily maneuver this powerful machine in both forward and reverse with the one-hand control feature.
A high-strength steel deck, 1 3/8 inch spindle shaft and larger diameter pulleys optimize the longevity of the machine.
* Prices are subject to change. Tax and other fees not shown in above price estimate.