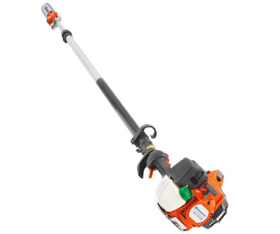 Husqvarna 327PT5S is a robust pole saw with telescopic tube. The versatile cutter head makes it easy to reach even dense trees and bushes without using a ladder or cherry picker. Low weight, good balance and rear-mounted engine provide a comfortable working position and reduced exhaust fumes. The slim cutter head has adjustable and automatic chain lubrication.
FEATURES
Telescopic Tube - The tube has a telescopic function for quick cutting height adjustment.
Rear Impact Guard - The rear-impact guard protects the engine from wear and damage.
Stand Alone Starter - The stand alone starter makes it easy to change starter cord if needed.
Chain Lubrication - Adjustable, automatic chain lubrication.
Efficient Air Filter - The efficient air filter system is designed to increase engine life and reduce service costs.
Fuel Pump - Fuel pump designed for easy starting.
Auto Return Stop Switch - Stop switch automatically resets to the ON position for trouble-free starting.
* Prices are subject to change. Tax and other fees not shown in above price estimate.