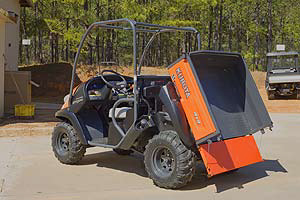 Whether you're tending a park, hunting in the woods, or simply roaming your property, let Kubota's RTV500 take you wherever you need to go. This quiet utility vehicle features Kubota's durable liquid-cooled EFI gasoline engine, variable hydrostatic transmission, and more—all packed into a compact body. Used for a variety of applications, it's powerful and rugged enough to handle uneven terrain, yet it can fit into the bed of a full-size pickup truck, so you can take it with you. With all of this and more, you can rest assured that the high-performance RTV500 is always at the ready, no matter where you want to go.
FEATURES
Kubota Liquid-cooled EFI Gasoline Engine - The RTV500's smooth 15.8-horsepower, 2-cylinder Kubota gasoline engine is liquid-cooled to ensure reliability and minimize noise and vibration, reducing operator fatigue and increasing efficiency. The engine features an Electronic Fuel Injection (EFI) system that provides on-demand power, optimizes acceleration and enhances quiet operability. Plus, the EFI eliminates the need to adjust the carburetor—enabling better engine start-up in cold weather or after long-term storage, and improving engine serviceability.
Standard Frame-Integrated ROPS - Meets OSHA 1928.53 Rollover Protection Standards.
Kubota Variable Hydro Transmission (VHT PLUS) - Kubota's exclusive and innovative hydrostatic transmission provides the RTV500 with an exceptional level of performance, handling, and reliability under tough conditions. Approach long downhill grades with confidence utilizing the VHT Plus' smooth, engine assisted deceleration. In addition, the VHT offers outstanding traction and impressive power, providing the muscle to take you almost anywhere.
Designed for Convenient Transportation - It is  specifically designed the RTV500's compact frame to make it easy to load into the bed of a full-size long bed pickup truck*. It's ideal for camping, hunting, or any rugged outdoor adventure.
Dumping Cargo Bed - Use the RTV500's cargo bed to haul up to 441lbs of dirt, gravel, rocks, hay or whatever will fit. The bed also manually tilts up to make dumpling or unloading your cargo easy.
Comfortable Operator Area - The RTV500 features ergonomic, well-placed controls for easy operation, and a comfortable contoured bench seat, so both the driver and passenger can enjoy a full day of work or play. The low operator platform offers ample and obstacle-free leg room, so it's simple to step on or off.
* Prices are subject to change. Tax and other fees not shown in above price estimate.