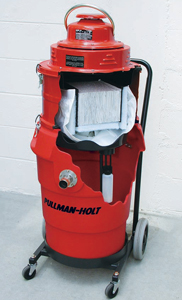 Number one choice of abatement professionals. It has earned the reputation as a true "work horse" by abatement, remediation and restoration professionals. A heavy-duty polyethylene tank with dump valve, rugged construction and long-life, commercial grade vacuum motor help make this model the toughest, most durable HEPA Vacuum in the market today.
FEATURES
High efficiency 'Drop-in' style HEPA filter individually certified to have a minimum efficiency of 99.97% at .3 microns (based on 1EST-RP-CC007 particle count test method).
Air seal gasket between the motor head and tanks forms a positive lock fit.
Polyester prefilter is located on the bottom of the HEPA filter, and is held firmly in place with Velcro fasteners.
A Dacron filter bag covers the entire spacer sleeve and HEPA filter for three-stage filtration. Dacron material sheds dust to maintain maximum vacuum efficiency.
Heavy duty poly tank with large dump valve and vacmobile molded handle and cart for easy transport
25 foot power cord.
* Prices are subject to change. Tax and other fees not shown in above price estimate.