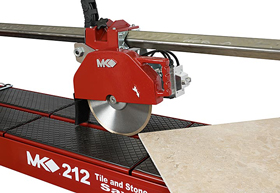 The MK-212 Professional Tile and Stone Saws are built rugged and portable for use on any jobsite. The powerful 2 Hp direct drive motor is fully enclosed for greater protection. The adjustable built-in miter system allows cuts at all angles from 45° to 90°. The plunge cutting head has a pivoting blade guard for easy blade changes.
FEATURES
2 HP, fully enclosed, direct drive motor
Plunge cut capability for scoring or cutting large tile
Tilting head allows easy and precise 45 miter cuts up to 1-1/2in deep
Blade guard accommodates 10" profile wheels
Pivoting blade guard for easy blade changes
Cutting head mounted on a roller-bearing carriage running on a stainless steel rail
90º cutting guide for accurate material placement
Friction locks on both head height adjustment and carriage travel
Constructed with powder coated heavy-gauge sheet metal and cast aluminum components
1/4in thick replaceable rubber cutting surface
Built-in lifting handles for easy transport
Built-in stand with removable legs
* Prices are subject to change. Tax and other fees not shown in above price estimate.