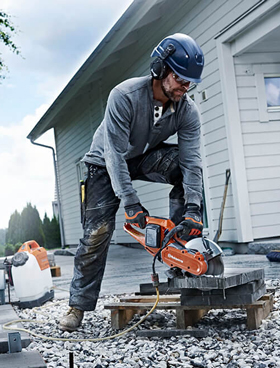 Husqvarna's 9" cut-off saw is a battery-operated, lightweight power cutter that is perfect for cutting rebar, landscape pavers, brick, block and can even cut 3" into concrete. The ergonomic, low-vibration handle makes the K535i very easy to maneuver and won't put stress on the user.
FEATURES
Excellent power-to-weight ratio makes it a versatile addition for lighter land or hardscaping jobs
Perfect for quick and efficient cuts
Suitable for concrete garden plates, granite, roof and floor tiles
Fully integrated water feed system
Adaptable for wet and dry cutting
Slim design and low weight makes it easy to lift and control during operation
Side-feeded battery placement maximizes cooling and minimize slurry and dust containment
Intuitive keypad is designed for quick commands and features a Save function for maximum run time
Centered placement of the blade provides increased stability and control
Electric blade brake - for increased safety and ease of use, the blade will stop its rotation – from full throttle to zero in 3.1 seconds
Brushless motor is 25% more efficient than a standard brush motor providing a high and consistent torque
* Prices are subject to change. Tax and other fees not shown in above price estimate.