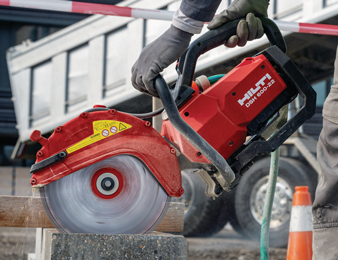 HILTI DSH 600-22 (3786884) - 12" Battery Power Cut off Saw for concrete, metal and masonry (Nuron battery platform).
FEATURES
Battery-powered concrete saw for heavy-duty tasks – DSH 600-22 gets the same work done as a 60cc gas cut-off saw, but without the fumes, noise, extra maintenance or fuel mix issues.
Long trigger time – you can cut as much concrete with two sets of B 22-170 batteries as with one full tank of gas thanks to the combination of smarter, more efficient Nuron batteries and cordless-optimized blades.
Lower running costs – no fuel to buy or mix; less maintenance, and up to double the lifespan of a gas saw thanks to a brushless electric motor
Improved safety features – fume-free, quieter, lower-vibration cutting, and a fast-acting blade brake
Better maneuverability – weighing just 19.6 lbs (or 26.5 lbs including two B 22-170 batteries and a 12" blade), this cut-off saw is engineered for comfortable handling in any orientation.
APPLICATIONS
Cutting concrete and masonry – such as making new openings or trimming blocks to size (max. cutting depth 4-3/4" with 12" blades)
Paving – cutting curbstones, pavers and asphalt
Metalwork – cutting metal deck, rebar, steel sheet, metal track, and pipes
Cutting indoors – battery-powered cut-off saws are quieter and fume-free
Virtually dust-free cutting – OSHA 1926.1153 Table-1 compliance for silica dust control when used with a compatible water supply (available separately)
* Prices are subject to change. Tax and other fees not shown in above price estimate.