SPECIFICATIONS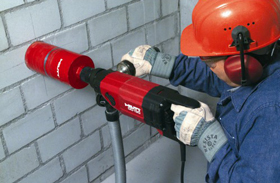 Power input: 1700 W
Weight: approx. 7.3 kg (motor)
Drilling anchor holes
Through holes
Removing test cores
Plumbing penetrations
Heating penetrations
Electrical penetrations
Telecom penetrations
Railings
Penetrations in brittle material and inhabited buildings
Penetrations close to edges
Wet and dry drilling without modification
Hand-held or rig mounted
Three speeds
Overload indicator
Slip clutch
Quick-change chuck
Core drill bit change without using a tool
Electric speed regulator
Thermal motor protector drill stand
Quick lock motor mount
Cores at angles up to 45 degrees
Suitable for anchor, vacuum and brace
MATERIALS: Concrete, Reinforced Concrete, Masonry / Brick, Natural Stone, Synthetic Stone, Ceramic materials.
* Prices are subject to change. Tax and other fees not shown in above price estimate.