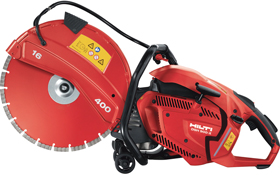 HILTI 16" DSH900-X GEN 3 W/3 BLADES | PART NO: 3539191 -
Powerful rear-handle 87 cc gas saw with auto-choke – cutting depth up to 6".
FEATURES 
Powerful gas cut-off saw engineered to make your most demanding cutting work quicker and easier – compatible with the DSH-FSC floor saw cart
Easy-start gas saw – unique auto-choke helps to make first-pull ignition the norm, and flooded engines virtually impossible
Robust – upgraded air filters and re-engineered internal components help the gas saw to deliver uninterrupted, high performance
Easy self-service maintenance – pre-tensioned belt and virtually unbreakable starter rope help to minimize the saw's maintenance downtime
Compatible with the DSH-P water pump – feeds water to your gas saw from any source, no pressurization needed
APPLICATIONS
Road construction – perimeter cutting in asphalt and concrete.
Sewage work – cutting metal, concrete and plastic pipes.
Floor construction – cutting expansion joints in fresh concrete.
Laying paving – cutting curbstones and paving slabs to size.
Construction work – cutting openings in brick or concrete walls.