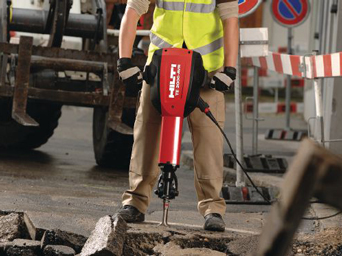 HIlti TE 3000-AVR Breaker with Trolly and 3 Bits - Drilling Demolition Performace Package.
Exceptionally powerful concrete demolition hammer featuring low vibration and brushless motor. The new TE 3000- AVR breaker has been built to deliver the performance of an air tool in heavy breaking and demolition work on concrete or asphalt. But its lack of vibration is every bit as impressive as its awesome hammering power. Once let loose, this tools SR motor stops at nothing. Not even to change carbon brushes, because it has none. Ruggedly engineered for extra-long lifetime with exceptionally long intervals between servicing, the TE 3000-AVR is unique in more ways than one. The TE 3000-AVR features decou­pled side handles that keep vibration to an absolute minimum, making the tool much less tiring to work with for long periods.
Medium- to heavy-duty demolition of concrete slabs and foundations.
Breaking up asphalt for road building, repair work and pipe laying.
Removing concrete for rebar connections and utility connections.
FEATURES
Delivers impressive hammering impact energy of 68 joules to big concrete demolition jobs.
Impressive breaking performance - up to 6 tons of concrete in one hour which makes TE 3000 equal to air/compressor tools.
Minimal vibration.
Versatile, easy to operate, easy to transport and ready for use in minutes.
Needs no compressor and is therefore easier to transport than air tools, highly versatile and ready for use in minutes.