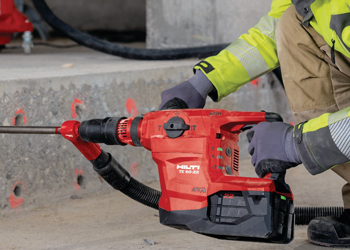 Hilti TE 60-22 (3786886) - Cordless SDS Max (TE-Y) rotary hammer with Active Vibration Reduction and Active Torque Control for heavy-duty concrete drilling and chiseling (Nuron battery platform).
FEATURES
Maximized working time per charge – brushless motor and more efficient Nuron batteries help you get up to 3x more battery run time
Upgraded safety features – includes Active Torque Control (ATC) to better protect you from uncontrolled spinning if the bit jams, and Active Vibration Reduction (AVR) for increased shielding from vibration.
Longer trigger time – minimal vibration so you can work with fewer interruptions
On the Nuron battery platform – cordless rotary hammers without compromise thanks to longer-lasting batteries, power-saving drill bits and a range of services to keep you productive, today and tomorrow
Outsized performance – weighing in at just 17.9 lbs (inc. B 22-170 battery), TE 60-22 has the drilling and chipping power you'd expect from a much heavier rotary hammer.
APPLICATIONS
Extremely versatile rotary hammer drill for heavy-duty concrete construction work as well as building services installation
Drilling holes for pipe penetrations or electrical outlets through concrete and masonry
Chiseling openings and channels in concrete or masonry
Digging holes in earth – SDS Max clay spade available separately
Drilling holes for post-installed rebar connections in concrete (recommended diameter range 7/8" to 1-5/8")
* Prices are subject to change. Tax and other fees not shown in above price estimate.