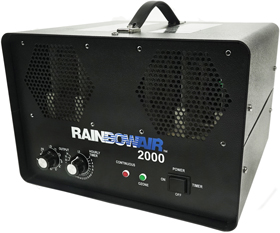 Rainbowair Activators have been the brand of choice for hotels, restaurants, professional cleaners, rental stores, and contractors for over 30 years. The Rainbowair 2000 Series II Ozone Generator incorporates a new state-of-the-art deodorizing technology designed to give you years of reliability. The Rainbowair Activator 2000 Series II is a powerful, compact unit designed for big jobs and quick turnaround. This model has been used internationally for over 30 years in a wide range of applications including car detailing, facility maintenance issues, carpet cleaning and fire & flood restoration work.
FEATURES
Ideal for restoration, carpet cleaning and small ozone chambers
Variable ozone output up to 2000 mg/hr output
0.95 amps at maximum output
20,000 sq/ft treatable area
Continuous run mode
230 CFM air movement
6' removable power cord
High output & Portable
* Prices are subject to change. Tax and other fees not shown in above price estimate.