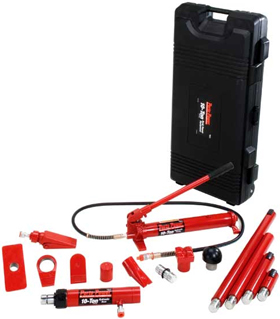 The 10 ton capacity portapower model (B65115) gives you the extra muscle you need to get the job done right. If you are looking for some extra muscle power to complement your work, then the Blackhawk 10-Ton Porto-Power Kit is the right choice. This kit can back you up during important projects so that you work more efficiently. It features a snap-lock design that ensures fast and simple assembly. This design increases your productivity and benefits business. The power kit has an automatic pump overload system that is meant to protect against damage to rams and the Porto-Power equipment.
Another important feature is the heavy-walled extension tubes that have superior endurance to face different situations. Once a project is complete, you can store the kit away in the customized molded storage case that you can wheel for easy transportation. The case helps you move the kit around in between projects too.
FEATURES 
The 10 Ton capacity model gives you the extra muscle you need to get the job done right
Snap-lock design for quick and easy assembly
Automatic pump overload system protects against damage to rams and equipment
Heavy walled extension tubes stand up in tough situations
Flex head features permanently molded rubber pad-interlocked to prevent separation
Long handles provides low pumping effort
1/2 ton capacity hydraulic spreader features 2" jaws and spreads from 5/8" to 3-3/4"
Custom fitted, rugged blow molded storage case with wheels for easy movement between jobs.
* Prices are subject to change. Tax and other fees not shown in above price estimate.