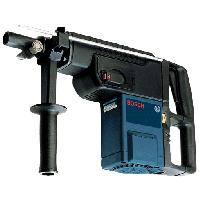 The Bosch 11232EVS electronic variable-speed spline rotary hammer runs at 180 to 360 rpm and 1,600 to 3,200 beats per minute. The tool's electronic feedback circuitry provides soft-start and maintains a constant speed under load. The service reminder light indicates when the tool needs servicing eight hours in advance of tool shutdown, while the improved electro-pneumatic impact system minimizes vibration and ensures a constant, more powerful impact. The hammer's maximum capacity is 1-1/2 inches for spiral bits; 2-1/2 inches for thru hole bits; and 3-1/2 inches for core bits. Includes depth gauge, dust shield, 360-degree auxiliary handle, and metal carrying case.
FEATURES
Electro-pneumatic impact system: piston hits air column to minimize vibration, yet deliver maximum impact force
Constant Response circuitry provides soft-start and constantly monitors and adjust power to maintain desired rpm and impact force for consistent performance and control
Single-function control: hammer with rotation only
Variable-speed dial for accurate bit starting
Integral clutch helps minimize recoil in high-torque situations
Padded rear handle absorbs shock for operator comfort
360-degree side handle with built-in depth gauge for consistent hole depth
12-foot flexible rubber power cord
Service Minder light indicates need for service 8 hours before preset tool shutdown
8 amp motor, variable speed from 180 to 360 rpm, and 1,600 to 3,200 beats per minute
* Prices are subject to change. Tax and other fees not shown in above price estimate.