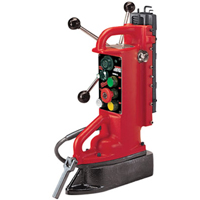 The electromagnetic variable speed adjustable base features solid state electronic switching and an 11in. drill travel. Adjustable position on this base makes lining up the bit easier and faster.
FEATURES
For use on any flat ferrous material, 1/2in. and thicker
120 Volt AC; 12.5 Amp max. rating
Solid state electronic switching
Motor/magnet lockout prevents de-mag during operation
Feedback speed control
Computer-controlled reverse
Full wave holding power
Adjustable to 3/4in. in direction of base length (front-to-back) and 20° right or left of center
* Prices are subject to change. Tax and other fees not shown in above price estimate.