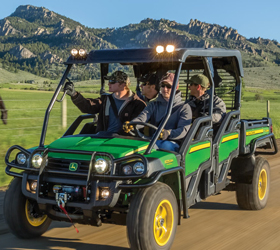 Come rain, snow, sleet and sweltering heat. No matter the forecast, full size John Deere Gator™ Crossover Utility Vehicles (XUVs) now have you covered. We're the big boys, engineered for serious payloads with powerful engines and incredible rides. The off-road is now even roomier. We've maximized space to accommodate a team of four. Take control of any trail with standard power steering with the 32 mph (52 kM/h) 23-HP† (17 kW) diesel powered XUV855M S4.
FEATURES
Seating for four and rear under-seat storage - The XUV825M S4 and XUV855M S4 models feature seating for four. The rear seat will convert to provide a flat surface for extra payload and there is sealed under-seat rear storage for additional cargo.
Powerful diesel engine delivers superb starting, idling, and throttle response - The advanced engine delivers superb starting, idling, and throttle response during operation. With minimal noise vibration and harshness (NVH), the XUV855 is the smoothest and quietest running diesel in its class.
Superior terrain capability - The Gator™ XUV Crossover Series Utility Vehicle has a precision-engineered drivetrain system that fully utilizes engine power, optimizing acceleration, hauling, towing, and hill-climbing capabilities. Power is transmitted from the engine through a continuously-variable clutch system to the transaxle.
Extra-durable deluxe cargo box ensures hard-working performance and longevity.
Dual A-arm front and rear suspension provides a smooth ride over challenging terrain and excellent hauling characteristics.
Equipped with power steering - This Gator™ XUV Crossover Utility Vehicle is equipped with power steering and a dual A-arm front suspension. .
* Prices are subject to change. Tax and other fees not shown in above price estimate.