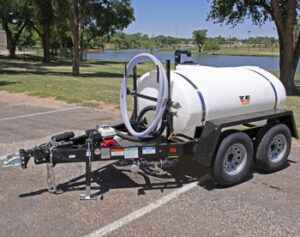 The Wylie Express Water Wagon is the standard of the industry for water trailers. The Express Water Wagon can be used for dust abatement, concrete saw water, water hauling, fire control, and many other uses.  The Wylie Express Water Wagon is the water trailer that can handle all this and more. It is the favorite water trailer of contractors, builders, and rental companies. Standard features of these water trailers include poly tanks, tandem axles with leaf springs, and adjustable height ball hitch. The Honda engine and cast aluminum pump, along with galvanized manifolds and the 4x6 channel iron frame all come together to create a tough, industrial grade water trailer that will give you years of dependable service.
Another available option is a hose reel with 50' of 1" hose and a fire nozzle. The reel is mounted on a 180º swivel, making the deployment of the hose fast and efficient.
FEATURES
Tandem Surge Brake Axles
Electric Brakes on 1,600 Gallon Trailer
DOT Approved Trailer
Diamond Tread Fenders
Galvanized Manifolds
Dual Nozzle Spray Bar
4 HP Honda Engine and 2" Aluminum Pump
Optional Reel & Hose with Fire Nozzle
* Prices are subject to change. Tax and other fees not shown in above price estimate.