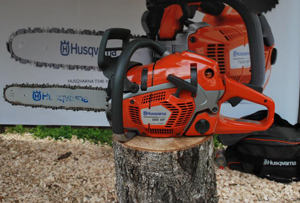 The Husqvarna 560 XP® petrol chainsaw is developed for professional loggers and skilled land owners. This heavy duty chainsaw has a ground breaking design and is loaded with innovative solutions for efficient, convenient operation. This easy start chainsaw helps increase productivity, while the Husqvarna X-Torq engine helps provide more power when you need it, using up to 20% less fuel while producing 75% less exhaust emissions versus other professional chainsaws. RevBoost™ provides an instant high chain speed for extra efficient de-limbing in the toughest conditions. Supplied with interchangeable 15" chainsaw bar as standard.
FEATURES
AutoTune - gives optimal engine performance throughout automatic engine setting. No time spent on carburetor adjustments. It compensates for different fuels, altitude, humidity, temperature and clogged air filter.
X-TORQ - Delivers lower fuel consumption and reduced exhaust emission levels in accordance with the world´s most stringent environmental regulations.
RevBoost - Rapid acceleration and higher chain speed for best limbing performance.
Air Injection - Centrifugal air cleaning system removes larger dust and debris particles before reaching the air filter. This results in reduced air filter cleanings and improved engine life.
Flip-up tank cap - The flip-up tank cap is easy to open and close when refueling.
LowVib - System designed to reduce vibration levels to the operator, which lessens fatigue.
Adjustable oil pump - Allows you to control oil flow depending on application and weather conditions.
Quick-release air filter - Facilitates cleaning and replacement of the air filter.
Magnesium crankcase - Sturdily built crankcase withstands high rpms and tough professional use, ensuring a long service life.
Combined choke/stop control - Allows for easier starting and reduces the risk of engine flooding.
Snap-lock cylinder cover - Saves time when changing spark plugs and cleaning.
Three-piece crankshaft - Forged three-piece crankshaft for maximum durability for the toughest applications.
Side-mounted chain tensioner - Easier access to chain tensioning device.
Slimmed-down design - Low, slender saw body makes the chainsaw easy and convenient to handle in any situation.
Felling marks - Distinct, colored marks used for aiming the direction of timber fall.
Visible fuel level - Transparent fuel indicator makes it easy to check fuel level.
Smart Start - The engine and starter have been designed so the machine starts quickly with minimum effort.
Inertia activated chain brake - Reduces the likelihood of injury due to kickback.
Fuel Pump - Fuel pump designed for easy starting.
Retained bar nuts - The retaining function prevents loosing the bar nuts.