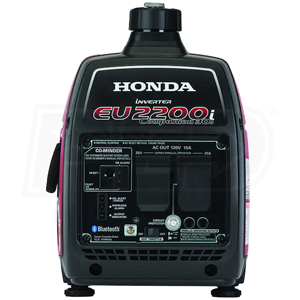 Honda EU2200ITAN1 Companion - 1800 Watt Portable Inverter Generator w/ Bluetooth® & CO-MINDER (49-State).
FEATURES
New Honda EU2200i Companion Super Quiet Series Inverter Generator - Replaces the EU2000i Companion with extra power and improved performance.
Honda Advanced Inverter Technology - Microprocessor controlled to operate sensitive electronics. Stable, clean power in a smaller, lighter package.
CO-Minder™ - Advanced Carbon Monoxide Detection System - Continuously measures CO levels & shuts down at high levels.
Honda My Generator App + Bluetooth® Capability - Wireless stop, operation monitoring & service reminders.
Built-In 30-Amp & 20-Amp Receptacles For RV Applications - Allows (1) EU2200i & (1) EU2200 Companion to be run in parallel.
Honda GXR120 OHC 4-Cycle Engine w/ Oil Alert® Warning System - Provides smooth, fuel efficient and quiet operation. Shuts the engine down if oil reaches an unsafe operating level.
Eco Throttle™ - Runs Up To 7.5 Hours On .95 Gallons Of Fuel - Auto adjusts engine speed to the optimum level depending on load.
Two-Tiered Noise Dampening System - Provides super quiet operation - 53 to 62 dB(A). Ideal for camping & supplemental RV power.
Engineered For Easier Starting - Light effort recoil starter & color-coded start-up points.
Built-In Fuel Shut-Off Valve - Prevents stale fuel by allowing engine to run when fuel supply is off.
Easier Maintenance - Large spout and oil drain gutter for quick, easy oil changes.
USDA-Qualified Spark Arrestor/Muffler - Helps prevent fires in dry conditions.