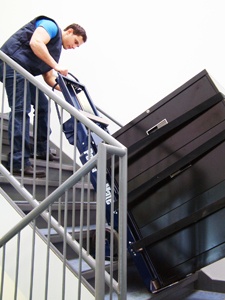 The PowerMate M-Series stair climbing hand trucks = heavy duty lifting! The PowerMate M-1 is a heavy duty stair climber with a capacity to move loads up to 1,500 lbs. The M-1 is made from heavy duty steel construction and is ideal for moving heavy loads like safes, boilers, geothermal heat pumps, elevator equipment or any heavy, awkward load.
The PowerMate M-1 is four machines in one: a powered stair climber; a powered tailgate lift; a loading dock leveler and a well-balanced dolly. The following list provides a quick reference to some of the advantages attributed to the PowerMate M-1 stair climber.
FEATURES
The PowerMate M-1 is the machine of choice for moving heavy boilers out of residential basements in one piece.
M-1's are well balanced machines: The M-1 is always in a balanced position, even while on stairs. Operators can let go of the machine to open doors or move obstructions - even answer their cell phones! This is impossible with a regular hand truck.
Elevator package: The M-1 elevator package includes everything you need to move electric motors, test weights, cable and sheaves. Contact PowerMate for more information on the M-1 elevator package.
Leverage bar: The M-1 comes with a leverage bar to assist with maneuvering loads. The leverage bar also works in conjunction with a 'hook box' that can be installed in the bed of your vehicle or loading dock to assist with load-in.
Tailgate lift: The PowerMate M-1 is a tailgate lift able to raise and lower loads onto your vehicle beds and has a 40" lifting height!
PowerMate charging cage: The PowerMate docking station is the ideal place to store and charge your PowerMate overnight. Store your PowerMate accessories and lock your station for security purposes.
* Prices are subject to change. Tax and other fees not shown in above price estimate.