Category Archives:
Rentalex Equipment At Work
Supporting Hurricane Florence Disaster Zone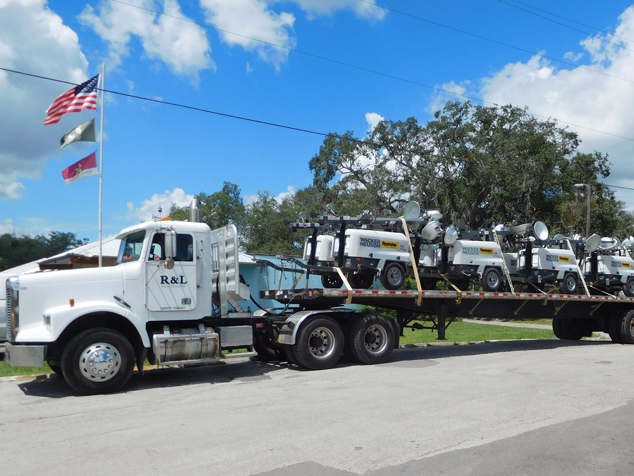 Rentalex has equipment on route to offer support to the 2018 Hurricane Florence disaster zone.
When Going 'Green', Don't Forget the Fourth 'R'
Are you doing your part in helping to "green" America? We all know the three "R's" that we should be practicing each and every day – reduce, reuse and recycle – but did you know about the fourth "R", which helps you accomplish the other three? This "R" will not only cut down on your individual carbon footprint but will also save you money on your green home improvement projects.
The fourth "R" stands for rental, the original green industry, and provides the solution to many of your environmentally-friendly building needs.
Not only is it a more economical choice, but it is also a greener choice than buying when it comes to your do-it-yourself project equipment needs.
Reduce, reuse, recycle and rent
"Going green" is a term used to describe being more environmentally conscious in all aspects of your life. The goal of "going green" is to practice behaviors that help reduce your overall carbon footprint, which is a measurement of all greenhouse gases we individually produce. Some people adopt this lifestyle in baby steps; gradually introducing more green products and behaviors into their everyday life. Others adopt it on a much larger scale; replacing a number of harmful products or practices all at once. Either way, the planet benefits! But how does renting fit into a green lifestyle? Called the "original green industry", renting is one of the few businesses that completely encompasses the other three "R's" – when consumers share products through rental, they are reducing their carbon footprint by reusing equipment that has already been manufactured, and recycling it on to the next person who needs it.
Go green with rental
Cutting down on waste is one of the main components of going green. This includes reducing the use of non-biodegradable packaging, excess energy consumption and harmful fuel emissions. One of the easiest ways to reduce your waste in all three of these areas is to "share" products that you know you will only be using on occasion. When working on home improvement or DIY projects, you will probably end up needing some tools you don't have just lying around the house – an aerator, an auger or even a jackhammer.
By renting these tools instead of buying new, you are not only reusing equipment, but you are also reducing the manufacturing, packaging and shipping process of new equipment.
Sharing equipment also means you will always get the most eco-friendly and energy efficient tools available. The professionals in the rental industry handle the upkeep and maintenance of the equipment and make sure every tool complies with the latest industry and environmental standards.
And unlike many other green investments, renting does not require a huge upfront cost. While many green products come with a larger price tag, with the understanding that they will pay off in the long run, renting is a more economical choice than buying new and will pay off immediately since you don't have to worry about the storage and upkeep of the equipment. With the money you save by renting, you can invest in more environmentally friendly materials for your home improvement project and reap the cost savings for a lifetime.
Whether you're putting in new windows, installing more energy-efficient appliances or adding solar panels, there are many things you can do to ensure that you are helping the planet at the same time. To cut down on your carbon footprint and improve your energy efficiency, look to rental, the original green industry, to help "greenify" your next home-improvement project.
What Makes Drilling Specialist More Productive?
Drilling systems that enable you to drill quickly, more ergonomically and adapt to different applications can make you more productive. When developing and improving our drill motors, drill stands and diamond bits we, look at the whole system. We analyze every component and process to find out how we can make skilled drilling operators work even more efficiently and effortlessly. More holes drilled per working hour. More production per operator. That's what a Husqvarna core drilling system is designed to do.
Range Overview
Husqvarna drill systems consist of powerful drill motors and sturdy stands. Power options are available from the electric handheld 2.5 hp DM 220 to the hydraulic 12.5 hp DM 406 H. Recommended maximum drilling diameters range from 4 in to 24 in. For the highest production rate, choose the system/systems optimal for your kind of operation. Download PDF Version – Husqvarna Drilling Systems
How to Get the Best Looking Lawn in the
Neighborhood Without Breaking the Bank
Every year around this time, there's at least one yard in the neighborhood everyone wishes were their own. It has the perfectly manicured lawn, the rounded hedges and the flowers that just won't quit blooming. As you look at your own lawn, with the weeds and brown spots, you wonder where you went wrong. After all, you were out there mowing as much as your neighbors last year.
Well, time to let you in on a little secret. Not only did those neighbors you envy so much spend time mowing their lawn, they also dethatched their lawn, aerated it, used a rototiller to turn up the dead patches and reseeded, but they also carefully re-edged along the sidewalks.
Sound like an expensive proposition? It would have been had they hired a lawn service, or bought all the tools they needed, but they did the entire project themselves with rented tools. According to the American Rental Association (ARA), more and more people are turning to rented equipment and tools for their home improvement projects. Not only does renting offer significant cost savings, it is convenient as well. When you rent tools, you don't have to worry about equipment maintenance or storage. You will also be able to take advantage of expert advice from a rental professional. These trained professionals will be able to guide you in the right direction and give you tips on how to operate the equipment in the safest and most effective way. They can also help you select the correct tools for your project.
For example, if you visit your local rental business and say your lawn is looking sparse and brown, they'll tell you that thatch — the layer of interwoven grass, leaves and stems that blocks water and nutrients from reaching the roots — is the likely culprit.
To pull out the old thatch, you'll be urged to rent a dethatcher, also called a power rake, which will remove the tangle of grass clippings, leaves and stems that have collected in your grass. The next step will be to rent an aerator, which is a gas-powered machine that actually pokes holes in the earth and removes cores of dirt as it goes. The holes allow nutrients, air and moisture to penetrate your lawn's root system. Once that's done, you'll need to get out there and tackle the weeds.
If you have any patches that are all weeds and no grass, you can use a rototiller to turn up the ground and then reseed. You'll also want to rent an edger once or twice during the season to give your lawn that well cared for look.
With a little effort and some cost-effective rental tools, your lawn may just become the pride of the neighborhood. At Rentalex, our professional rental representatives will make it easy for you to learn how to use the right tools for your project. For more information on Rentalex, visit us online at www.Rentalex.com, or call us at (813)971-9990.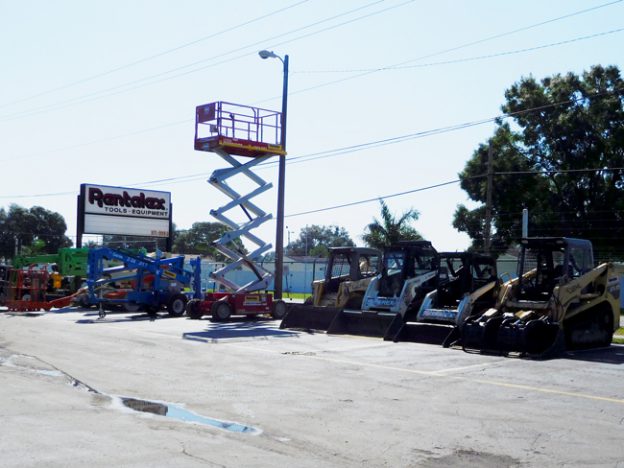 Get Professional Results without the Professional
In the do-it-yourself television shows, the pros make it look so easy and for them, it is. They have a lot of big tools to do the work; they know which tools are right for the job and how to use them. This information is not privileged and you don't have to watch years of do-it-yourself shows to learn how.
Rentalex carries the same tools the pros use. We also have rental specialists on staff to explain how to use them before you take it home so you do the job right — without damage to yourself, your house or the tool.
To get your money's worth out of renting a specialty tool, there are a few things you should know to rent right.
First, choose the best tool for the job. Tell the staff at Rentalex what you want to accomplish rather than what tool you want to rent. We may suggest a different tool that will do the job better and quicker. Trust us to rent you the tool you need and not more tool than you can handle.
Trust Rentalex to provide correct information. We believe in volunteering answers for the questions you don't know enough to ask. When we ask questions, we're investigating. At Rentalex, we ask questions in order to rent you the correct tool to get professional and efficient results.
The information we can provide is invaluable — so not only do you rent well-maintained equipment, but you rent it with the security of knowing you're doing it the best way possible. Once you decide on a tool, our staff teaches you how to use it safely. The customer's safety is important at Rentalex. If a tool doesn't feel right or doesn't seem to be working correctly, please call us at (813)971-9990. Plus, we offer instruction on project preparation before taking the tool home.
Here are some examples of tool possibilities you can use and knowledge you'll get at Rentalex:
Paint Sprayer: Painting is one of the simplest, most inexpensive redecorating projects. You can make it even simpler and faster with a rented airless paint sprayer. Be prepared and you'll get incredibly fast spray painting. Cover, mask and tape windows, furniture and floors, and thin and strain the paint through a nylon stocking or paint filter. We can offer advice on how to thin the paint to get it to go through the sprayer, but you must also read the manufacturer's instructions on how to thin their paint.
Get these steps done before driving to Rentalex to pick up the sprayer. You'll save yourself the expense of time when you have the tool and aren't using it. Keep the paint supply clean and don't let the paint dry out to keep the nozzle from clogging. If the nozzle gets clogged, don't put your hand in front of the spray. An airless sprayer can severely damage flesh in seconds. The instructions will tell you how to unclog the nozzle. Don't point the sprayer at anything you don't want to paint. See our paint sprayers here: https://www.rentalex.com/product-category/tampa-floor-wall-finishing/
Nail Gun: Use a nail gun to avoid the frustration and pain of hammering. Nail guns drive nails much faster and set the nails below the surface so the nails are ready for filling. A few tips for the first-time nail gun user: use manufacturer-specified nails to keep the gun from jamming. Keep the nails clean — don't put nails into the gun that were just dropped into sawdust. Learn how to lubricate the head if you plan to use it for more than a day. See our general building tools and equipment here: https://www.rentalex.com/product-category/tampa-general-building-tools/
Power Auger: Another common do-it-yourself project is fence building. What can be a quick project becomes weeks-long if you have a lot of holes to dig. Rent a power auger to dig all the post holes for you, and your fence really can be a weekend job. Two-person power augers are perfect for fence post holes.
These machines drill holes for small-diameter uses and come with interchangeable 4, 6 or 8-inch augers. Identify what kind of soil you're digging in to determine how big a machine you need. See our 1-man general gas auger here: https://www.rentalex.com/rental_equipment/tampa-lawn-garden-landscape/general-auger-m240h/
Other tools available for rental include skid steers, walk-behind trenchers, drywall hoist, pressure washers, and tile saws to name a few. Some of which you may think "I couldn't really operate one of those." But in reality, you can.
Our staff will make it easy for you to learn how to use the right tools for your project. With the right tools you get professional results without the professional. Renting is the smart way to get things done. For more information on Rentalex, visit us online at www.Rentalex.com, or call us at (813)971-9990.
Getting Equipment Ready To Go!
At Rentalex, we always strive to offer the best service possible. Our equipment rental representatives are committed to provide our customers with well-maintained, safe, and competitively priced equipment. Check out some pictures of our rental equipment including light towers and forlifts getting ready to get on the road and be delivered.
---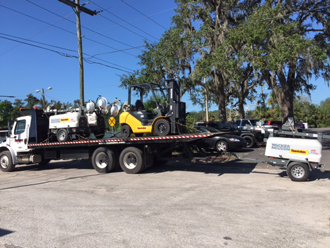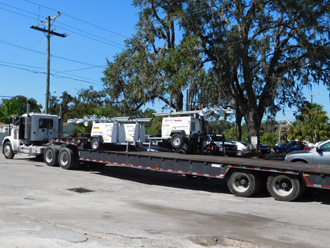 Need help finding a tool? We can help you find the equipment you need to complete your project.
Contact us Today at (813)971-9990 to get a quote!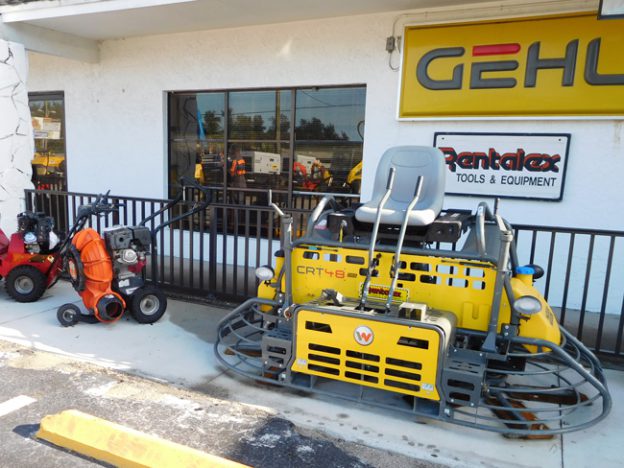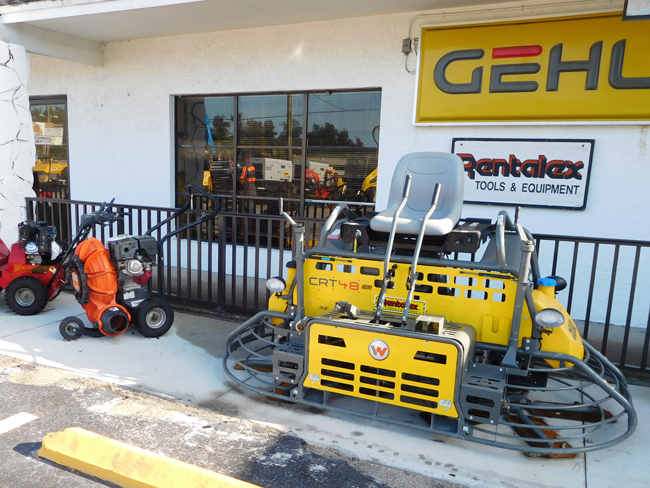 Home Improvement Simplified
Even Small Projects Have A Big Impact
When budgeting demands cut back on life's little extravagances, it's a disappointing but acceptable change. Cutting things out of the budget, like home improvement projects, might seem reasonable in the short term, but it's a bad decision in the long run. Taking on those projects might seem like an expensive proposition, but with smart solutions, like renting tools, taking proper care of your home is well within your budget.
Protect your most important investment
Your home is your largest investment and no matter how the housing market fluctuates, you don't want to neglect maintenance and upkeep around the house. Taking the time to do projects will not only ensure the safety of your family, but it will also ensure your financial security for years to come. Investing energy and money into fixing little problems, like a crack in your home's foundation, will prevent larger problems down the road.
Simple projects to refresh the look of your home, like a fresh coat of paint or a little landscaping work, will not only make your home feel more warm and inviting, but it will also yield a large return on investment when it comes to resale value. The "green" movement might offer ideas for other projects. By making your home more energy efficient, you can reduce bills and add value for the future, should you want to put your home on the market.
Improve your house without increasing your bills
Although many home improvement projects can be simple, they often require tools that most people don't commonly have. This is when it makes sense to visit your local rental store www.Rentalex.com. Since you will most likely only need the tools or equipment once, renting is a more cost-effective solution than buying new or hiring a handyman.
Stocked with pressure washers to clean off your siding or deck, jackhammers to tear out an uneven front walk and concrete polishers to give your garage floor a new finish, your nearby rental store is like the ultimate workshop — filled with professional grade tools, see our fleet here: Rentalex Rental Equipment. Your local rental professionals will make sure you get the right tools for your job, and they will teach you how to properly use the equipment you need.
Find your local rental resource
Avoid spending time and money running all over town to find the tools you need — make one stop at your local rental store. Rentalex is a rental store located in the Tampa Bay area ready to help you. Our rental representatives can provide how-to tips and help you find the perfect tool to help you complete your project. Visit our Tampa store at 1028 Skipper Road, in Tampa,FL 33613. Don't let your biggest investment become your biggest burden — maximize your investment while cutting your costs with rental.
Getting Ready for Hurricane Irma
Rentalex is preparing for Hurricane Irma, equipment is being moved to a safer location. Stay safe during the hurricane!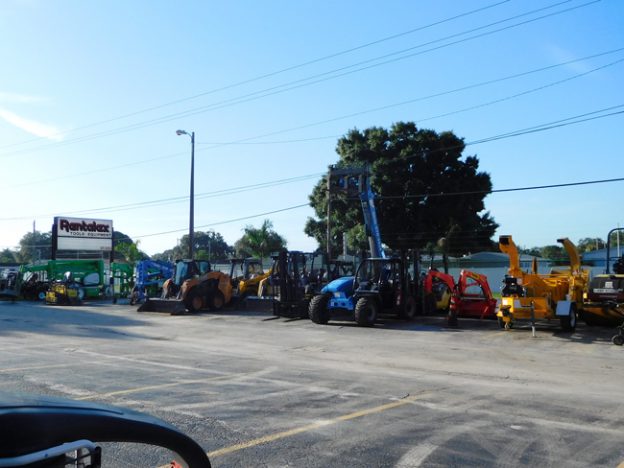 Yard Work Accidents are Common This Time of Year
– Here are 7 Tips to Stay Safe –
This time of year, you can't help but notice the chainsaws buzzing and the hum of wood chippers reducing twigs, branches and what were once towering trees into mulch. Not to mention, the noise coming from edgers, rototillers and other machines working hard to get the yard ready for winter. As long as the weather is nice, do-it-yourselfers will be out in force cleaning up yards across the country.
If you're planning to join the ranks, be sure to take the time to study up on safety precautions before operating equipment like chainsaws, chippers and edgers. They can be dangerous if you don't take the proper safety measures.
Since January 2000, there have been dozens of claims involving people who were injured while using rented yard equipment, according to ARA Insurance Services, an insurance company owned by the American Rental Association. Here's the breakdown:
Wood chipper accidents — 11 claims
Chain saw accidents — 12 claims
Log splitter accidents — 11 claims
Accidents involving rototillers — 6 claims
Stump grinder accidents — 6 claims
Don't become the next statistic. Make sure you know how to operate the equipment before getting started.
Rentalex is ready to offer safety advice on our tools and machines. When you arrive at our store, located at 1028 Skipper Road in Tampa, Florida. Tell one of our rental experts what you want to accomplish and they will help you find the equipment you need to get the job done. Our staff is regularly trained on using the equipment and can provide you with plenty of tips for proper and safe use. Rentalex staff is prepared to demonstrate how to use each tool safely and effectively. Don't hesitate to ask a lot of questions to make sure you know how to handle the tool you're taking home.
If, for example, you're planning to cut down a pine tree with a trunk that's three feet in diameter, we will help you find the proper saw and show you the right way to handle it. Our staff will recommend you first clear away dirt, debris, small limbs and rocks from the area you're planning to cut. Then before turning on the saw, to check controls, chain tension and all bolts and handles to ensure they are functioning properly. We also suggest our customers wear protective equipment when operating the saw, which includes hand, foot, leg, eye, face, hearing and head protection.
Chippers can also be dangerous when they aren't handled in the correct way. A machine that is powerful enough to chew up tree limbs and then spit them out as little chips can easily do the same to a hand or arm, according to ARA Insurance Services.
The Department of Labor's Occupational Safety and Health Administration put together these seven tips to keep in mind while operating a chipper:
Never reach into a chipper while it is operating.
Do not wear loose-fitting clothing around a chipper.
Always follow the manufacturer's guidelines and safety instructions.
Use earplugs, safety glasses, hard hats and gloves.
Protect yourself from contacting operating chipper components by guarding the infeed and discharge ports, and preventing the opening of the access covers or doors until the drum or disc completely stops.
Maintain at least two tree or log lengths between chipper operations and other workers.
If your chipper is jammed, make sure the engine is turned off when you try and remove the shrub or branch.
No matter what kind of equipment you're renting, chainsaws, chippers or some other tool, be sure to ask one of our rental experts to include the instruction manual and any safety information they may have. Reserve a tool for your next outdoor project by visiting us at 1028 Skipper Road in Tampa, FL 33613 or call us today at (813)971-9990.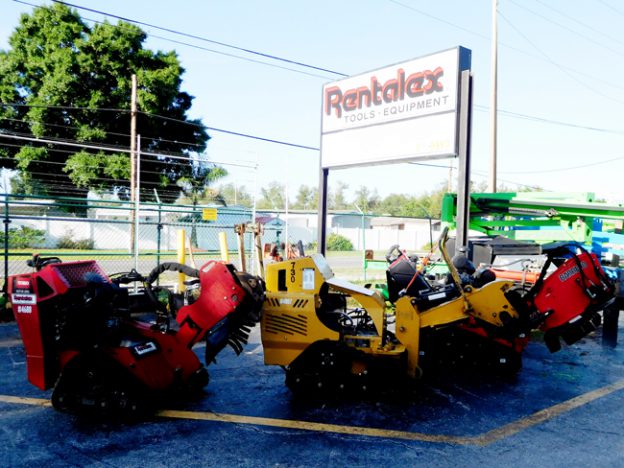 Invest in Home Improvements, Not in Tools for the Job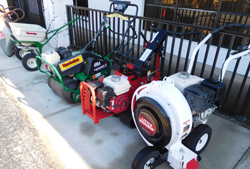 Many homeowners see fall as the year's last chance to fix that leaky roof, resurface the driveway, restain the deck, clean the chimney, and tidy the yard. But while all your last-minute chores probably won't break your back, they could break the bank if you try to buy all the tools you will need to get the jobs done.
For many homeowners with realistic home improvement budgets and limited tool storage space, renting from Rentalex located in Tampa Florida is the answer. Cheaper than buying, renting tools allows homeowners to put their home improvement dollars towards materials, rather than equipment.
Here are some common home improvement or repair tasks:
Deck Maintenance – Fall is a great time to re-stain the deck, and repair any damaged wood. If you are removing and replacing damaged wood, you'll need a variety of hand and power tools such as power saws and a nail gun. To stain or seal the deck, you can rent power sprayers to make the job fast and easy.
Roof and Window Repairs – Keeping your windows and roof in good shape can help reduce future costs. Scaffolding can help you reach both and is often a safer, more stable work space than a ladder. Rentalex staff can help you determine the tools you will need to repair the roof or damage around windows.
Clean Up the Backyard – Clear brush, sod or seed bare spots in the lawn, remove leaves and store summer gardening tools. Rentalex rents hedge trimmers, lawn mowers, sod cutters, leaf blowers, yard vacuums, chainsaws, and stump grinders.
To learn more about tools and equipment available for rent at Rentalex, visit us at 1028 Skipper Road in Tampa, Florida 33613 or call one of our rental experts at (813)971-9990.
Tristan Eaton Art – Bern's Steak House Mural
Tristan Eaton recently completed a new art piece in Tampa to celebrate 60 years of "Bern's Steak House". The colorful combination completely blends into the surroundings and honors the local restaurant in style. Check out some of our Rentalex scissor lifts at work at the Bern's Steak House Mural project.
Rentalex Skyjack Scissor Lift
Photos by: Scott Purks (Tampa Bay Times)
Rentalex Skyjack Scissor Lift
Photos by: Lance Rothstein (The Tampa Tribune)
Rentalex Skyjack Scissor Lift
Photos by: Lance Rothstein (The Tampa Tribune)
Rentalex Skyjack Scissor Lift
Photos by: Lance Rothstein (The Tampa Tribune)
Rentalex Skyjack Scissor Lift
Photos by: Lance Rothstein (The Tampa Tribune)
Rentalex Skyjack Scissor Lift
Photos by: Scott Purks (Tampa Bay Times)
Clearwater 19 Commerce Center – Construction Project
The Clearwater 19 Commerce Center is located at 22067 US Hwy 19 N in Clearwater, Florida. Check out some of our Rentalex equipment at work at the Clearwater 19 Commerce Center construction project.
Rentalex JLG Boom Lift
Customer: Southern Home Improvements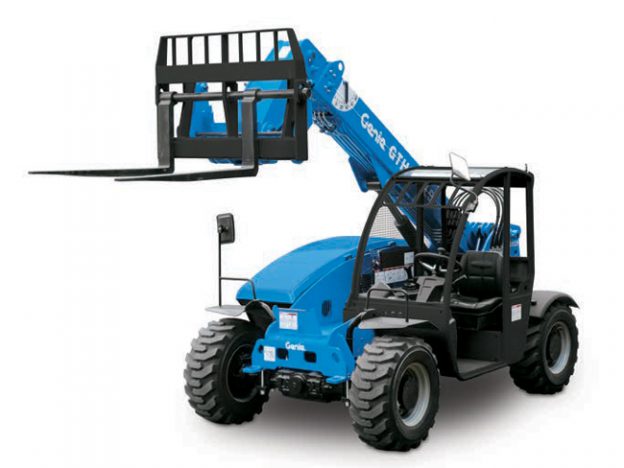 New GTH-5519 Compact Telehandler
Easy to maneuver and convenient to service, with a variety of rugged attachments, Genie® compact telehandlers meet the needs of most construction, masonry, landscape and farming applications. The highly maneuverable Genie® GTH™ 5519 – is often the first machine to arrive at a new jobsite and the last to leave.
Read more about the Genie GTH 5519 forklift features below. For more information about its rental prices go to our Genie® GTH5519 Compact Telehandler Page or call us at (813)971-9990.
Impressively Multi-purpose
The spacious cab with tilt steering is just the beginning. With only slight modifications in size, the GTH-5519 still works hard in tight spaces to unload trucks, carry tools and perform site cleanup. The new model has been upgraded with design improvements in the cab design and a new Tier 4 final engine, and it remains the industry leader in load capacity for its size.
---
Meeting New Standards
Still the compact workhorse customers love, the new unit has been improved with higher quality and to offer a Deutz TD 2.9 L4 Tier 4 final engine, without the need to add DEF fluid or regen, to meet today's emission standards while providing additional power.
---
Improved Serviceability
New improved fenders add to the durability of the machine. Plus easy access to the engine compartment through a redesigned chassis, this includes additional access to hydraulic connections and air bleeding valves, improves serviceability – making maintenance faster so the machine can get back to work quickly.
---
Operator Convenience and Comforts
The cabin interior has upgraded with a black dashboard and new main instrumentation cluster that offers an integrated display showing engine control unit messages. The new GTH-5519 also has defrost, ventilation, armrest padding and storage improvements. Plus the Quick Attach™ system give the operator the flexiblity to quickly change attachments.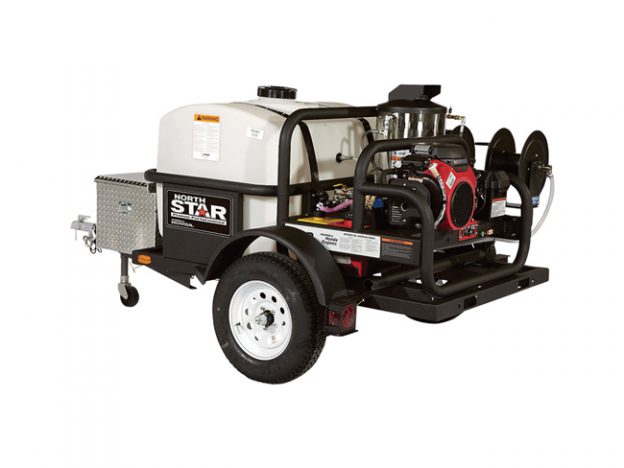 New NorthStar Hot Water Pressure Washer For Rent
4000 PSI, 4.0 GPM, Honda Engine, Trailer Mounted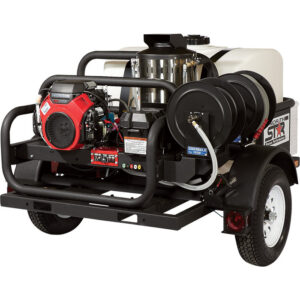 This NorthStar Hot Water Pressure Washer with self-contained 200 gallon water tank delivers hot water washing anywhere! Perfect for remote job sites with no electricity or running water. Honda GX630 V-twin engine powers CAT pump to deliver hot water at 4000 PSI for effective cleaning. Horizontal shaft engine is engineered for long life. Cat direct drive pump has brass manifold and ceramic plungers. Coil assembly is fully encased in a custom-molded ceramic fiber refractory combustion chamber with low thermal conductivity and resistance to thermal shock.
Parker Hannifin Racor fuel filter and water separator prevents burner ignition problems. Diagnostic lights signal operation of key components. Rear hose-entry spray gun with split lance keeps the hose out of the way for easy handling.
Read more about the NorthStar Hot Water Pressure Washer features below. For more information about its rental prices go to our Hot Water Pressure Washer #157595 Page or call us at (813)971-9990.
Ultimate Performance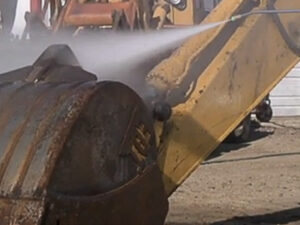 Cleans Faster, Saves Time and MoneyEven the toughest grease, grime and oil are no match for this high-performance NorthStar Hot Water Pressure Washer Trailer. With up to 4.0 GPM and 4000 PSI of hot water cleaning power, this powerhouse does what cold water pressure washers can't — blast through the dirtiest, greasiest projects more quickly and easily — great for professionals and serious do-it-yourselfers demanding premium cleaning performance.
Powerful Honda Engine
Never worry about your NorthStar Hot Water Skid Pressure Washer being ready for the task at hand. The commercial-grade Honda GX630 V-Twin engine provides the ultimate reliability and higher horsepower plus easy-start convenience, greater fuel efficiency, longer run time and quieter operation.
---
Superior Quality and Durability
Proven Reliability
Equipped with a high-quality Cat triplex pump, this NorthStar Hot Water Pressure Washer Trailer delivers field-proven dependability. The pump's direct drive design requires fewer moving parts, minimizing maintenance and maximizing value.
Greater Resistance, Longer Life
Small details make a big difference. The Cat pump used in this high-performance NorthStar Hot Water Skid Pressure Washer is designed with high-end ceramic plungers to provide maximum resistance to corrosion and abrasion, helping to extend pump life.
Rugged and Road Ready
We packed all this industrial cleaning power on a 3500-lb. capacity trailer complete with lights, torsion axle suspension and an aluminum truck storage box for organizing tools and chemicals.
---
Features and Benefits
200-gallon water tank
Pressure switch burner control
1/2in. schedule 80 heating coil with stainless steel wrap
3500-lb. capacity trailer has lights, torsion axle suspension, fenders and jack with caster
Aluminum truck storage box to organize tools and spare parts
Horizontal shaft engines last five times as long as vertical shaft engines
Forged brass manifold gives improved strength over cheaper aluminum
Easy Start stops pressure build-up during start-up
Adjustable pressure for job versatility
Sight glass lets you quickly check pump oil
Contact with water or oil will not damage insulation; upon drying the insulation regains its original shape
Uses 1/2in. schedule 80 extra-heavy pipe
Adjustable thermostat
Diagnostic indicator lights signal proper operation of key components
2 hose reels: first reel fits up to 100ft. 3/4in. garden hose (not included); second reel includes 150ft. 3/8in. gray nonmarking high-pressure hose
22mm quick connection makes it easy to use multiple attachments
Extras: Safety release, cast iron sleeves
Requires a battery (not included)
Some assembly required
Marshalltown Concrete Tools – Now Available!
Looking for Masonry, Concrete & Tile Tools? We are happy to announce that Rentalex is now selling a great selection of MarshallTown concrete tools in asphalt, brick, concrete, drywall, EIFS, flooring, paint, plaster, stucco, tile and wallpaper. Our new concrete hand tools and masonry supplies are ideal for professional contractors or do-it-yourself buyers.
Some of our new concrete equipment tools include Brushes, Chisels, Gauging Trowels, Grout Bags, Hammers, Levels, Line Blocks, Twigs, Line Stretchers, Margin Trowels, Pointing Trowels, Replacement Handles, Rub Bricks, Sled Runners, Tape Measures, Broom Float and Bracket, Brooms, Bull Float Brackets, Bump Cutters, Concrete Chisels, Corner Trowels, Curb Tools, Decorative Concrete, Finishing Trowel Handles, Finishing Trowels, Flat Wire Brooms, Hammers, Hand Edgers, Hand Floats, Hand Groovers, Handle Adapters, Roller Screed, Walking Groovers, and much more. Check out some images of some of our new concrete finishing tools below.
For more information about our new concrete supplies and masonry tools please call us at (813)971-9990.

Pasco School "W" – Construction Project
The Pasco School "W" is located at 29732 Wiregrass School Rd. in Wesley Chapel, Florida. The Pasco Elementary School 'W' is bordered by Mansfield Blvd on the north and east and Wiregrass Access Road (a private drive) on the south. Check out some of our Rentalex equipment at work at the Pasco School construction project.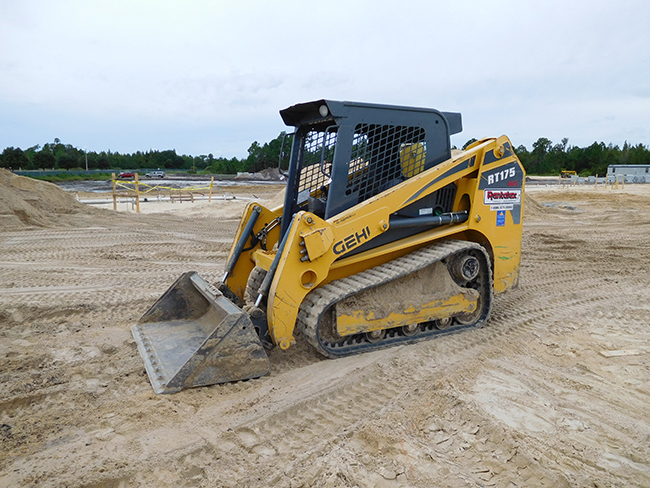 Rentalex GEHL RT175 Track Loader
Customer: Genesis Concrete Structures
Rentalex Wacker Neuson 50Z3 Mini Excavator
Customer: Genesis Concrete Structures
---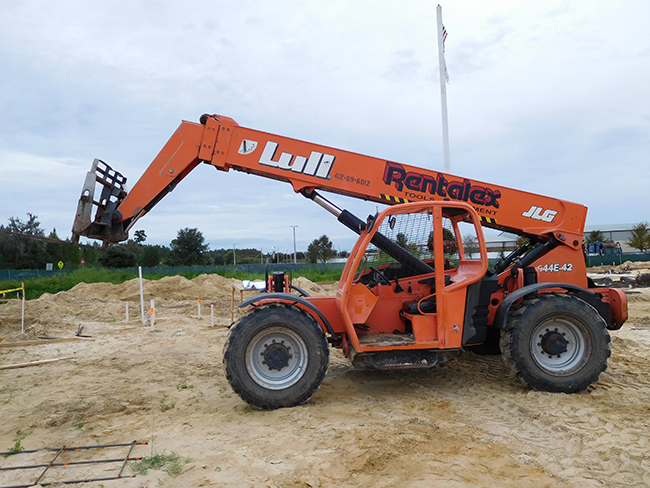 Rentalex JLG Lull 9000lb 44′ Reach Forklift
Customer: Genesis Concrete Structures
---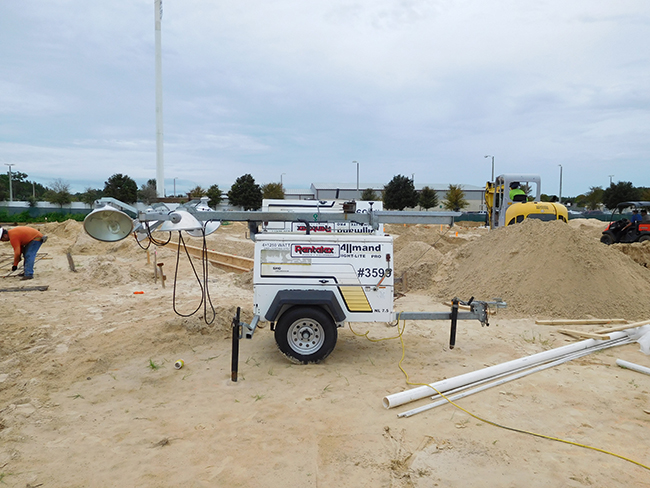 Rentalex Allmand 4000 Watt Light Tower
Customer: Genesis Concrete Structures
Brand NEW Komatsu FG25T-16 Forklifts For Rent!
At Rentalex, we continuosly add NEW construction equipment to our inventory in order to be able to offer better availability and service to our customers. We recently bought several Brand New Komatsu FG25T-16 5000LB Capacity forklifts. Komatsu forklifts are designed to stay on the job for the long haul.
The FG25T-16 can lift up to 5,000 lbs, 50% less than the average competitor. Traveling at speeds of up to 11.2 mph under full load, it is 1.4 mph slower than what's typical in its class. It can lift a full load as fast as 120.0 feet per minute, 23.4 fpm faster than the average in this segment of lift trucks. It has an outside turning radius of 88.2 inches, meaning its turning circle is 18% tighter than what is common for its class. The FG25T-16 can be used on grades as steep as 27% under full load, a similar grade as what the typical competing model can handle.
Read more the Komatsu FG25T-16 standard features below. For more information about its rental prices go to our 5K Komatsu Forklift Page or call us at (813)971-9990.
Special Features
EPA compliant K21 and K25 industrial engine with high torque at low rpms for power and fuel efficiency.
Komfort Zone™ dual floating structure uses drive-train cushion mounts and suspension compartment mounts to isolate the operator from engine and floor vibration.
EZlift™ hydraulic system with tandem pump provides fast and controllable lifting speed at low engine rpm.
New full floating transmission with high-capacity oil cooler for the torque converter, aluminum alloy transmission case for better heat dissipation, and highly reliable, dust-resistant, double-sealed universal joint design.
Self-adjusting brakes with thicker drums improves heat resistance in severe duty applications.
Improved steer axle with integral double-acting, double-ended cylinder, high-capacity king-pin needle bearings, and heavy-duty seals.
New EZview mast with improved visibility window, combined with low profile dash display, offers the operator an unrestricted view to the fork tips and surrounding area.
KOPS (Komatsu Operator Presence System) Plus locks out lift, lower, tilt and travel functions when the operator leaves the seat for longer than 3 seconds
---
Holiday Inn Express – Construction Project
The Holiday Inn Express is located at 2125 Corporate Center Drive, in Trinity, Florida. It is just between U.S. 19 and the Suncoast Parkway in the high-growth State Road 54/56 corridor. The hotel construction will be first hotel in Trinity in West Pasco County. Check out some of our Rentalex equipment at work at the Holiday Inn Express construction project.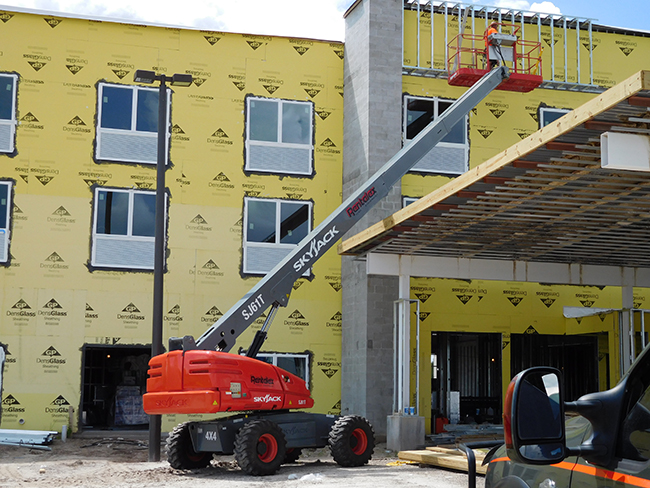 Rentalex Boomlift Skyjack SJ61T
Customer: MPH Hotels
---
Rentalex Forklift 6000LB 42′ JLG G6-42A
Customer: MPH Hotels
Holiday Inn Indian Rocks Beach – Construction Project
The Holiday Inn Indian Rocks Beach Hotel is located at 401 2nd Street East, just 7.4 miles south of Clearwater Beach and 13.6 miles north of St. Pete Beach. The hotel expansion plans consist of an addition of 100 new rooms to be built alongside the new Indian Rocks Beach water park in a building separate from the main structure. Check out some of our Rentalex construction equipment at work at the Holiday Inn construction project.
Rentalex 10000 LB Forklift 56′ Reach GTH-1056 Genie
Customer: Wichman Construction
Opal Sands Resort – Construction Project
The New luxury Beach Resort located at 430 S. Gulfview Blvd., is one of the most-anticipated projects on the horizon for the booming Clearwater Beach area. Opal Sands Resort is a 15-story hotel that will boast 230 guest rooms and suites, each with private balconies and unparalleled views of the Gulf of Mexico. Check out some of our Rentalex construction equipment at work for the Clearwater Beach Resort construction project.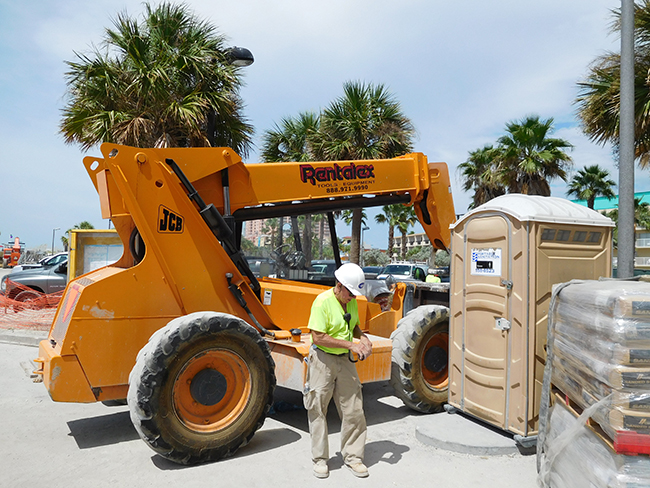 Rentalex Forklift 6000LB 36′ JCB 506C
Customer: Burkett Stucco – Moss (General Contractor)
---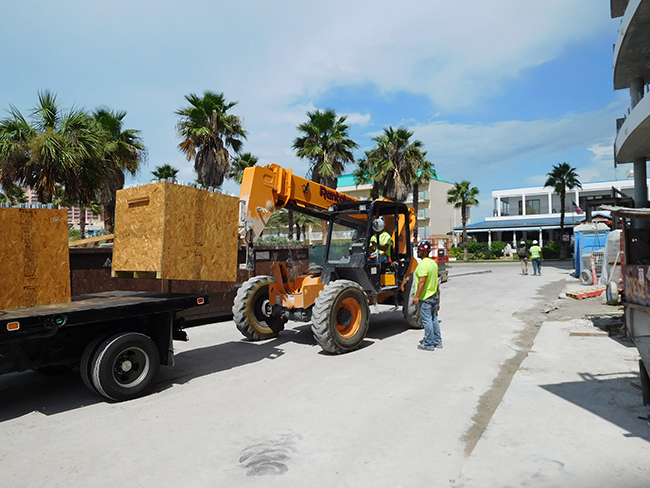 Rentalex Forklift 6000LB 36′ JCB 506C
Customer: Burkett Stucco – Moss (General Contractor)
---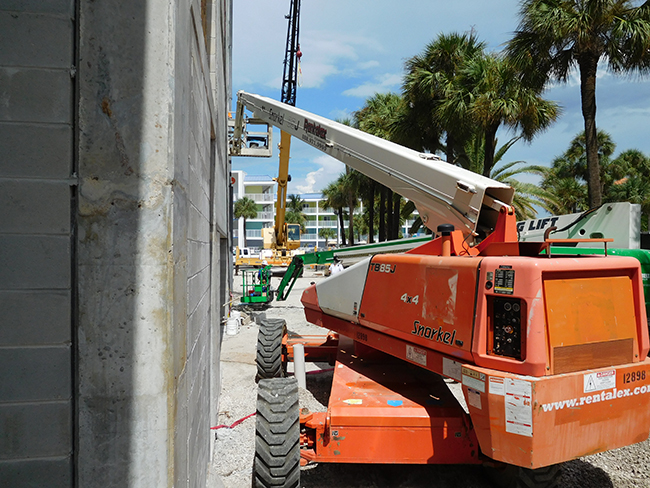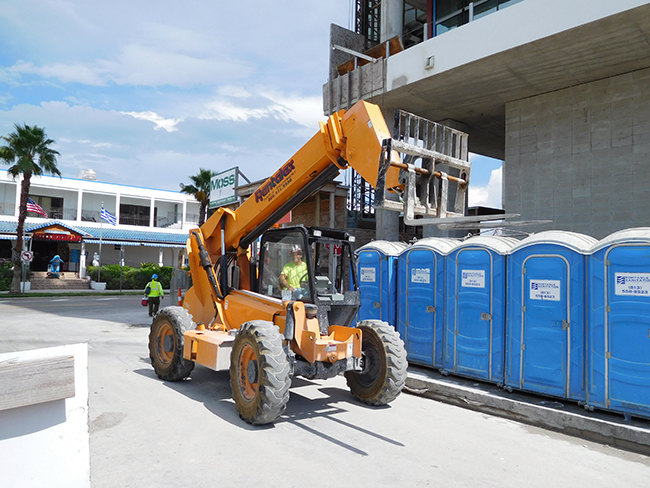 Rentalex Boomlift 4×4 TB85J Snorkel / Forklift JCB
Customer: Burkett Stucco – Moss (General Contractor)