Description
The Kubota L2800 is a 4-wheel drive compact utility tractor.  It is powered by a 915 cu. in. engine, producing 30 horsepower at 2,800 rpm. The lift capacity is 1,435 lbs and the maximum travel speed is 14.7 mph. The Kubota L2800 is equipped with power steering, wet disc type brakes, open operator station with two-post ROPS and a 9-gallon fuel tank.
*Includes loader and box blade.
SPECIFICATIONS
Type: Farm / Agricultural Tractor
Engine Gross Power: 30HP
Engine (Net): 28.6 HP
No. of Cylinders: 3
Total Displacement: 91.5 cu.in.
Rated Revolution: 2800
Fuel Tank Capacity: 9.0 gal
Air Cleaner: Single Element
Brake: Multiple Wet, Disc.
Power Steering: Integral Type Power Steering
Wheelbase: 63.3 in
FEATURES
Transmission – The Kubota L2800 comes standard with an 8 forward-speed hydrostatic transmission and a clutch.
Operating Weight – The Kubota L2800 tractor weighs 2,403 lbs.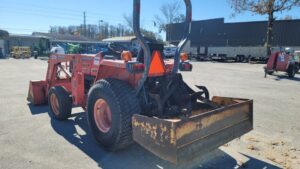 *Prices are subject to change. Tax not included.