About Rentalex of Pasco
Rentalex of Pasco is a family business with a long history in the equipment industry dating back to 1929 when Krueger Machinery Co. was founded in Saginaw, MI by Walter Krueger. In the early 70's Tom Krueger (Walter's son) was one of the first Associated Equipment Dealers (AED) to open a separate, stand alone rental store to provide customers with a fleet of equipment when their projects didn't warrant purchasing.
In 1982, Tom Krueger opened the first Rentalex store in Tampa, FL. There are now two Rentalex stores in Florida: one in Hudson and one in Tampa. They are operated by Tom Krueger's two sons, Bob & Tim Krueger. In 2001, the Rentalex store in Kalamazoo, MI was opened by Jeff Krueger.
The Krueger family takes pride in the long history we have in the construction industry. Our inventory includes many manufacturers that we have had relationships with for more than 50 years. This experience allows us to provide our customers with the best service and the best equipment for every project.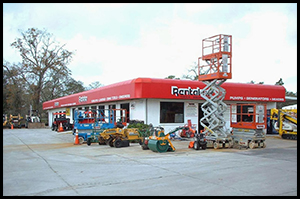 Testimonial
Rented a rough terrain lift.  Staff was thorough and professional and explained their rental policy and the operation and function of the equipment.  Returned equipment with quick inspection.  Price was fair as I rented lift for one day but had for two as it was over a weekend.  I will be back to rent equipment in the future.
 - Richard N.